Single authority to control cities; UDA axe to also fall on Dehiwala-Mt Lavinia, Kotte and Kolonnawa municipalities
Posted by Editor on December 5, 2010 - 5:23 pm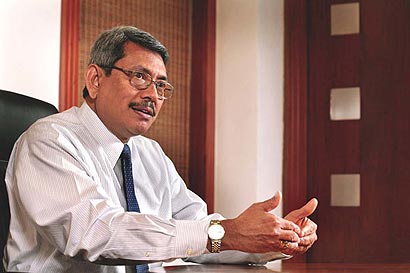 The Nation – By Gagani Weerakoon
Giving a new twist to the much speculated decision to convert the Colombo Municipal Council to an authority, Defence Secretary Gotabhaya Rajapaksa signalled this week that such an authority is not only for Colombo but will include Dehiwala-Mt.Lavinia, Kotte and Kolonnawa.
Delivering the seventh Sujata Jayawardana memorial oration in Colombo on the theme Development Plan for the City of Colombo, Rajapaksa said it is necessary to establish a single central authority to co-ordinate various administration functions of institutions that would contribute to making Colombo a city that is clean, green, attractive and dynamic.
"It is very important that all the relevant agencies such as the Municipal authorities, the UDA, Water Supply & Drainage Board, land reclamation authorities, and the utilities and infrastructure development authorities work with great dedication, commitment and coordination to improve the metropolitan areas," he said on Thursday.
It is also important to note that Colombo cannot be considered in isolation, but the Dehiwala-Mt. Lavinia, Kotte and Kolonnawa municipalities must all function collectively. Ultimately it is necessary to establish a single central authority to coordinate these various administration functions."
Speaking about the need to relocate unauthorised occupants in unauthorised establishments like shanties and slums along with street dwellers and pavement hawkers in order to transform Colombo from its present status into a world-class city, he emphasised the need for strict strategic planning, including a proper solid waste management plan
"Along with this administrative streamlining, the ad-hoc planning methodologies that were observed in the past will need to give way to proper strategic planning processes that analyses available resources, conceptualises a bold vision for the future, and generates a proper integrated, dynamic structural plan for future development. It is essential that all future plans ultimately uplift the living standards and income levels of the people. Through greater consultations with all relevant stakeholders and with some capacity enhancements, it will be possible to move to a comprehensive strategic planning process that will maximise the use of resources and accelerate economic growth," he added.
He also said it will also be necessary to introduce long-term measures to prevent the causes that led to the haphazard growth of Colombo.
"In terms of regulation, the different sector policies that result in overlapping and contradictory laws and regulations will need to be streamlined. Responsibilities must be clearly delegated amongst the central, provincial and local bodies that regulate land allocation, utilization, zoning and other administrative functions. Solving this problem will require some reengineering within government," he affirmed.
Latest Headlines in Sri Lanka