SLFP fully backs no-faith motion against Premier
Posted by Editor on March 31, 2018 - 9:39 am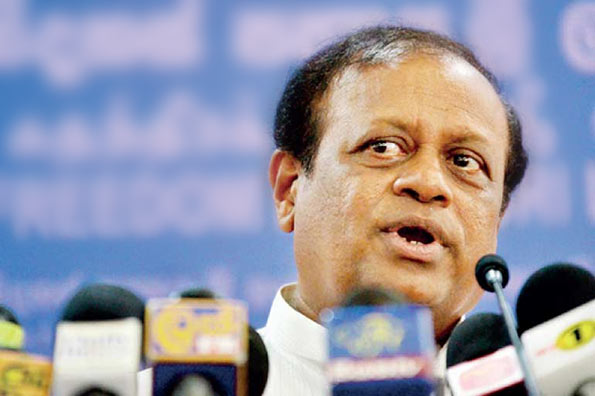 The Sri Lanka Freedom Party (SLFP) yesterday said it would, on April 04, vote for the no-confidence motion, moved by the Joint Opposition (JO) against Prime Minister Ranil Wickremesinghe.
The SLFP called upon Wickremesinghe to resign as Prime Minister if he wanted to protect the coalition government formed by the SLFP and the UNP.
The SLFP would officially announce its decision to vote for the no-faith motion after the party's Central Committee meeting, scheduled to be held on April 2 with President Maithripala Sirisena presiding, Science, Technology and Research Minister Susil Premajayantha told the media yesterday.
Premajayantha assured that the SLFP's current position on the no-confidence motion would not change and it would be confirmed by the Working Committee.
Addressing the media at the SLFP headquarters in Colombo, Minister Premajayanatha said 13 out of 14 charges against PM Wickremesinghe on the motion tabled in parliament were regarding the Central Bank bond scams and those charges were similar to the outcome of the SLFP appointed bond scam committee report. Therefore, the SLFP MPs did not have any reason to oppose the NCM, he added.
Commenting on the Feb. 10 local government polls results, the Minister said that the Sri Lanka Podujana Peramuna (SLPP), SLFP and UPFA together had secured 59 percent of the votes at the last LG election while the UNF had been able to poll only 32.5 percent.
It was not necessary to secure 113 votes for the passage of NCM and it could be passed by a simple majority, Premajayantha added.
If the no-faith motion was passed the current cabinet would be dissolved and a new PM and a new cabinet appointed, Minister Premajayantha said, stressing that the outcome of the motion would not affect the President at all though some politicians were trying to mislead the public.
State Minister of Public Enterprise Development Lakshman Yapa Abeywardena dismissed media reports which claimed that President Maithripala Sirsena had met Premier Wickremesinghe yesterday and agreed to work to defeat the no-faith motion.
He said as SLFP MPs could not dismiss the charges in the no-faith motion against the PM and, therefore, they had to vote for it. If however, the motion was defeated, the current coalition government could not continue, Minister Abeywardena warned.
(Source: The Island – By Maheesha Mudugamuwa)
Latest Headlines in Sri Lanka