'Some Sri Lankan goods doing extremely well in India'
Posted by Editor on November 22, 2017 - 7:55 am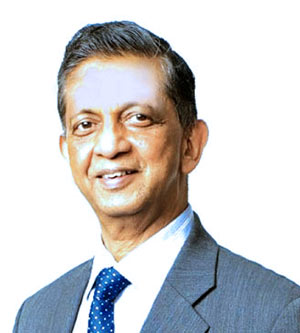 From chicken sausages, nail polish, strawberries and chicken feed to glass and Damro chairs, some Sri Lankan goods are doing 'extremely well' in India. They are setting a standard in India that the corresponding Indian products are trying to measure up to, former Finance and Economic Affairs Secretary of India Dr. S. Narayan said.
'Over the past few years, there has been a significant increase in the bilateral trade between India and Sri Lanka. Currently, the value of Indo-Lanka trade stands at $ 4.7 billion, with exports from Sri Lanka registering a steady growth. Among other goods of Lankan origin figuring in such trade are, cigarettes and liquor, Narayan explained.
Narayan was making an invited address titled, 'India-Sri Lanka Economic Relations in Modi's India' at the Lakshman Kadirgamar Institute of International Relations and Strategic Studies (LKI), Colombo on Monday. The event was organized by the LKI in collaboration with the Institute of Policy Studies (IPS), Colombo.
Addressing a large and representative audience at the LKI auditorium Narayan added that there is a large, informal boat trade from ports, such as Tuticorin in South India, to Sri Lanka, that if formalized could enhance formal inter-state trade and eventually add to the GDP of the countries. This trade is growing at the rate of 13 to 14 per cent. Sri Lankan goods, such as, cement, auto parts and construction material figure in these informal trade exchanges.
Currently, Indo-Lanka trade-related talks take place only at state level. This discussion needs to move away from this level to the business-to-business level between the countries. These talks must move from issues centring, for example, on tariff lines, to non-tariff barriers, such as the clearance of Lankan goods from Indian ports, swiftly. Sri Lanka should also look well beyond Tamil Nadu to growing economic and trade opportunities in other South Indian states, such as, Kerala and Andhra Pradesh, Narayan pointed out.
Narayan said in his wide-ranging and informative presentation that India is looking at balancing its economic and diplomatic ties with the US, which are seen to be growing, with its relations with China and Russia, in particularly the economic sphere. A meeting is forthcoming among India, China and Russia. Rather than seek insularity, India is looking to fit increasingly into the global value chain and to add value to the final product that emerges from such economic integration processes.
A former holder of top decision-making positions in a number of state sector institutions in India, Dr. Narayan counts nearly 40 years as a public official. His talk was followed by a Q and A session which was moderated by chair, Global Economy Programme at the LKI Dr. Ganeshan Wignaraja. Responses were made by chairman, Institute of Policy Studies Dr. Razeen Sally and several others. The event was supported by Dilmah.
(Source: The Island – By Lynn Ockersz)
Latest Headlines in Sri Lanka