Sonali Deraniyagala's tsunami memoir: One of the saddest stories a human being could ever tell
Posted by Editor on March 25, 2013 - 8:52 am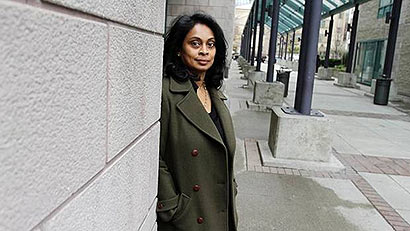 – Submitted by Walter Jayawardhana –
Time has not healed the wounds Sonali Deraniyagala suffered when rising waters of the devastating Indian Ocean tsunami engulfed her eight years ago on the southern coast of Sri Lanka, killing her parents, her husband and her two young sons while leaving her stunned and speechless on a mud bank near the ruins of the seaside resort where her family was vacationing.
"It's been completely the reverse," Deraniyagala said in an interview last week, scoffing at the cliché. For years, she adds, she was "cradled by shock," too stunned actually to feel her loss.
"There is pain, but it's a painless pain that comes with a lot of numbness, so you don't really feel your wounds for a long time," Deraniyagala says. "My process has been to gradually open up the wounds, because you can't feel the love without feeling the wounds."
The instrument she chose for this hazardous operation was literature. And the result, Wave, is a memoir for the ages – one of the saddest stories a human being could ever tell, told brilliantly, with devastating insight into the heart of love and death.
"This is the most powerful and haunting book I've read in years," Canadian author Michael Ondaatje writes on the cover of Wave, pretty much summing up the general reaction of early readers.
Thanks to a chance encounter in New York, Ondaatje became the first literary person to see the fragments of manuscript that, with his encouragement, eventually became Wave. But at the time, those pages were never intended to be a book in progress.
An economist by training, her previous literary ambition confined solely to the act of reading, Deraniyagala began the process simply in order "to unravel what happened in the water itself," she says. That beyond-nightmarish sequence begins the book. But it's all done in the first 50 pages. The essence of Wave is the heartbreaking portrait of family love that emerges as the author carefully dares to embrace the memory of her vanished brood. Readers not only share an extraordinary story, they also share the pain and joy that brought it into being.
"I wrote for a long time purely for myself," Deraniyagala says, speaking comfortably and openly in one of the few interviews she has agreed to do in support of the book. "The writing was my survival actually," she adds. "It was my way of being with them. The more I wrote, the more real they became to me."
But it was years before she was able to begin. "After it happened I wanted to shut off from everything," Deraniyagala says. "But that was our life, and our life was everything, so how do you shut off? I spent months in a darkened room because everything terrified me. I couldn't look at the sky because that was the sky I had when I had a family. I couldn't see a blade of grass or the sunshine."
Then came a period when Deraniyagala was able to live by blurring out what she couldn't face. "I became quite good at that, pushing it far away," she says. "My argument had always been, it's agony to remember, how can I tolerate it?"
That changed when Deraniyagala moved to New York, her job at the University of London on hold while she took up a temporary position at Columbia University. There she lectured on the economics of natural disasters to students who knew nothing of her personal story while "daring to remember" that on paper, in private.
Initially alone, then with help of therapist Mark Epstein, Deraniyagala re-peopled her vanished world. She describes how writing about the garden of her London home gave her the courage, three years after she last saw it, to revisit for the first time. "It was so painful to write," she says. "And I thought, if I could do this, I really should go back. It couldn't be any worse."
She opened up to her wounds, and love came pouring out. "The trauma of it, the joy of our life, all of it," she says. "You can't have one without the other."
Staying exposed to the pain of her loss keeps her love alive, a bargain Deraniyagala is more than willing to keep. "That's just the way it is," she says. "You're not looking to heal the wound."
Now that the writing that ensured her survival is finished, the author is uncertain about her future. "It kept me on quite a high, really," she says. "I have to have some form of that continue."
As to what that might be, she has "no idea."
In the meantime, she has left an eloquent monument to the deep human necessity of storytelling. (Source: The Globe and Mail)
Latest Headlines in Sri Lanka