Top 10 batting knocks in the World Cups
Posted by Editor on February 15, 2011 - 9:26 am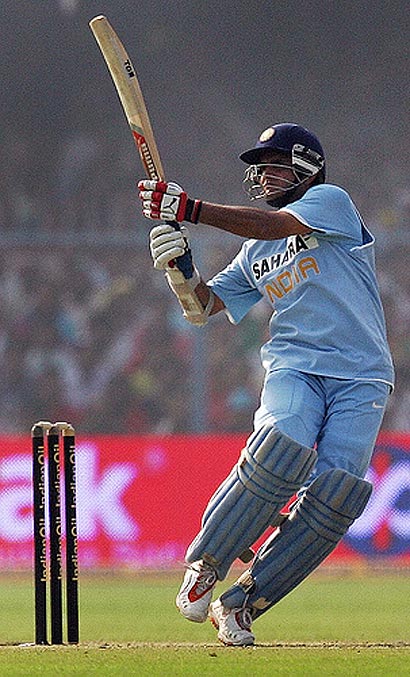 NEW DELHI: Brief run-down of the top batting knocks in the World Cup (against Test playing nations only) ahead of the 2011 edition which starts on Saturday.
1. Sourav Ganguly (India) – 183 (158 balls, 17 fours, 7 sixes) v Sri Lanka, Taunton, 1999
Ganguly provided a taste of what T20 might be like with his towering hits that almost cleared the outskirts of the town, let alone Taunton's tiny ground. After stuttering in their opening encounter against South Africa and choking in a space of six balls from Henry Olonga against Zimbabwe, India needed to win big against Sri Lanka. Ganguly's innings ensured just that and provided the momentum for a place in the Super Sixes. However, the early setbacks cost India the chance of further qualification.
2. Viv Richards (West Indies) – 181 (125 balls, 16 fours, 7 sixes) v Sri Lanka, Karachi, 1987
Richards walked in to bat on a hat-trick and by the time he departed, he had scored the highest score (then) in a World Cup. He went about his business in such a savage manner that Desmond Haynes' 105 almost seemed pedestrian by comparison. It was a perfect riposte to two back-to-back losses in World Cups for the West Indies (1983 finals to India; opening encounter against England in 1987). Although, they exited before the semi-finals, Richards had once again stamped his authority on the World Cup.
3. Matthew Hayden (Australia) 158 (143 balls, 14 fours, 4 sixes) v West Indies, North Sound, 2007
Hayden imposed himself on the home side with an innings of various gears. It was an uncharacteristic innings, given it was Ricky Ponting, Michael Clarke and Shane Watson who provided the impetus while the big man almost played a 'sheet anchor' role by his standards. Having not opened his account for 18 deliveries, he got to his 50 in 72 deliveries, and it was only in the 45th over that he really went into overdrive. Despite a glimpse of Brian Lara's class, there was no stopping Australia.
4. Adam Gilchrist (Australia) 149 (104 balls, 13 fours, 8 sixes) v Sri Lanka, Bridgetown, 2007
Clive Lloyd (1975), Viv Richards (1979), Aravinda de Silva (1996), Ponting (2003) and Gilchrist (2007). It is a Who's Who list of batsmen who left their indelible mark on World Cup finals. After a rather tepid tournament by his standards, Gilchrist — with a squash ball inside his gloves — treated the cricket ground akin to a squash court. His brutal assault propelled Australia, and although Sanath Jayasuriya and Kumar Sangakarra made a game of it, they could not stop Australia from winning the 2007 World Cup for the third consecutive time.
5. AB de Villiers (South Africa) 146 (130 balls, 12 fours, 5 sixes) v West Indies, St George's, 2007
With the West Indies already out of contention for a semi-final slot, Lara experimented with some debatable team selection and bowling decisions. But nothing can be taken away from the knock of De Villiers, who ensured that South Africa's shock defeat to Bangladesh was an aberration.
Although Sarwan tried gamely, South Africa eased through to the semis where, again, their fragile batting was exposed by the Australians, thus re-invigorating the tag of 'chokers'.
6. Rahul Dravid (India) 145 (129 balls, 17 fours, 1 six) v Sri Lanka, Taunton, 1999
Indian cricket is replete with Dravid's feats in some monumental partnerships and this extremely crucial 318-run partnership with Ganguly was no less momentous. The fact that he scored at a very impressive strike rate almost went unnoticed as he was finding the gaps and using his pull shots but not hitting the towering sixes that regularly came at the other end. However, Mr Dependable was there when India needed him most.
7. Andrew Symonds (Australia) 143* (125 balls, 18 fours, 2 sixes) v Pakistan, Johannesburg, 2003
In Australia's first match of the 2003 World Cup as defending champions, they were stunned by the Pakistani fast bowling attack with Gilchrist, Hayden, Damien Martyn and Jimmy Maher back in the hutch within the Powerplay. Ponting and Symonds rebuilt the innings and a sedate start assumed fierce proportions once Ponting departed. Symonds took a liking to Shahid Afridi's bowling and did not spare the Ws (Wasim and Waqar) in the death overs either. Pakistan never really got going and Australia were off and running.
8. Herschelle Gibbs (South Africa) 143 (141 balls, 19 fours, 3 sixes) v New Zealand, Johannesburg, 2003
A feeling of deja vu must have crept in when Gibbs scored another century at the World Cup and lost another crucial match. Rewind to 'You just dropped the World Cup, mate' quip from Steve Waugh in 1999 when Gibbs dropped a sitter after having scored 101 and let Australia off the hook. Fast forward four years, and this time it was the Kiwi skipper, Stephen Fleming, who upstaged Gibbs' heroic effort with sheer class and grace. It was a tournament where bad luck, rain, Messrs Duckworth & Lewis, and common sense (or lack of it) conspired to eliminate the hosts.
9. Dave Houghton (Zimbabwe) 142 (137 balls, 13 fours, 6 sixes) v New Zealand, Hyderabad, 1987
Another heartbreak story for another valiant centurion. Zimbabwe had always threatened to be giant slayers in their performances against India and Australia in 1983. They nearly did it again, chasing a respectable 243 to win. Houghton played one of the most majestic innings and almost single handedly won the match for Zimbabwe. Unfortunately, the rest of the batting line up let him down with tennis scores of 1-5-12-4-5-2-1. When Zimbabwe fell short by three runs, all neutral cricket fans must have been equally dejected.
10. Scott Styris (New Zealand) 141 (125 balls, 3 fours, 6 sixes) v Sri Lanka, Bloemfontein, 2003
To round off the theme with a hat-trick of centuries in losing causes, Styris was the sole survivor amidst a sinking ship with only a fighting 32 from Chris Cairns to prop up the New Zealand total. New Zealand never really came close to challenging the relatively imposing total of 272 from Sri Lanka.
Source: India Times
Latest Headlines in Sri Lanka