Speaker Chamal Rajapaksa stresses importance of reconciliation at Vesak events at UNESCO
Posted by Editor on June 4, 2013 - 9:31 am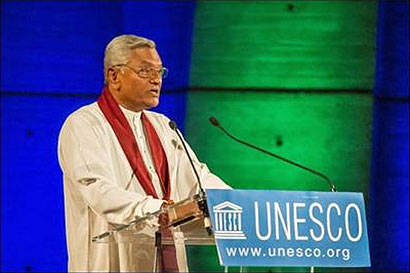 Speaker of the Parliament of Sri Lanka, Hon. Chamal Rajapaksa who was in Paris on a special visit in connection with the commemoration of Vesak at UNESCO, highlighted the need for Vesak to be a stepping stone towards greater integration and reconciliation.
Delivering a special address at the inauguration of the main symposium, the Hon. Chamal Rajapaksa highlighted the significance of Vesak and its relevance to all human beings.
Addressing the large and distinguished gathering which included religious leaders, ambassadors, permanent delegates, diplomats and scholars, Speaker Rajapaksa stated that "Each year, the day of Vesak gives us an opportunity to reiterate our determination to lead noble lives, develop one's mind, practice loving-kindness, and bring peace and harmony to humanity."
Speaking further, he added that "The decision this year to reflect upon the contributions of religious teachings towards reconciliation comes as people throughout the world desire calmness, serenity, and above all peace, I repeat, peace, not just in their countries and societies but more importantly, in their lives"
While noting that the fervent wish at this time was that the message of inter-faith dialogue and the essence it brought to bear would be a bridge towards reconciliation and narrow the divide that exists owing to ignorance, intolerance and hatred, the Hon. Speaker opined that "reconciling through education, knowledge, wisdom, and understanding, is the step we take this year. A step, we believe, which will bring our people closer together, create an unbreakable bond and unify us, irrespective of our individual faiths, all of which teach goodness, peace and compassion."
The special invitees, notably the Speaker of Parliament, Ven. Master Chin Kung, the Head and Founder of Pureland College, Australia, Ven. Dr Bodagama Chandima Thero, International Affairs Advisor to H. E. the President on Religious and Cultural Affairs, Ambassador Katalin Bogyay, President of the General Conference of UNESCO, Mr Janis Karklins, Assistant Director General of UNESCO and Prof. Karunaratne Hangawatte, the newly appointed Ambassador/ Permanent Delegate of Sri Lanka, were escorted into the main hall of UNESCO to the beating of "magul bera" in a procession including "sesath" bearers.
On the sidelines of the Vesak commemorations, the Speaker of Parliament also met with the President of the General Conference of UNESCO, Ambassador Katalin Bogyay, who hosted a special banquet in his honour.
Speaker Rajapaksa also visited the Embassy of Sri Lanka for a special 'pirith' ceremony which was attended by senior members of the Maha Sangha including the Ven. Master Chin Kung, Founder and Head of Pureland College, Australia, Ambassadors and other dignitaries. The 'pirith' ceremony took place on the eve of the Vesak commemorations at UNESCO.
Also present was the Hon. Malani Fonseka, Member of Parliament who graced the events organized at UNESCO.
Permanent Delegation of Sri Lanka to UNESCO
Paris
31st May 2013

Latest Headlines in Sri Lanka