Special emphasis to improve English speaking among schoolchildren
Posted by Editor on July 27, 2010 - 1:21 am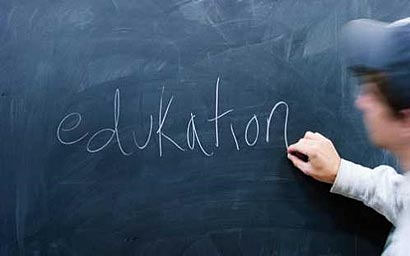 Pic by The City Paper
President Mahinda Rajapaksa Sunday said the Government has laid special emphasis on improving English speaking among school children, encouraging extra curricular activities and making them aware on future employment avenues and job oriented skills.
President Rajapaksa addressing a gathering following the opening of a new auditorium for Middeniya Maha Vidyalaya in the Hambantota district, emphasized that children are the most prized asset of the nation. He said the Government's main aim was to empower the future generation with knowledge, skills and morale attitudes, for them to face the future with confidence.
President Rajapaksa also stressed on the need to alleviate the fear of speaking English from the Sri Lankan mindset.
He noted the Presidential initiative 'English as l' to help children improve their spoken language skills.
Children should also be encouraged to engage in extra curricular activities to showcase their inherent abilities and teachers should make them aware on future employment avenues and job oriented skills training available, he added.
While noting that only around two percent of school children were being admitted to Universities at present, President Rajapaksa said the Government was looking at possibilities on increasing these numbers.
He added that the Government was also looking at promoting and making children aware on the vast scope of other livelihood avenues available to them.
He said he had instructed authorities to initiate language labs at school level. Improvement of facilities throughout the island was also highlighted with the President claiming that the efforts were paying rich dividends. The emergence of the highest placed student to enter the medical faculty this year from Hambantota was testimony to the emerging trends, he added.
It was also noted that the new auditorium, a long felt need of Middeniya Maha Vidyalaya became a reality primarily due to the efforts of an old boy of the School, Sirisena Amarasekera, Secretary to the Prime Minister, in whose name the hall is named after.
Amarasekera also addressed the gathering.
The President also opened the Samadhi Buddha statute at Sri Punyawardhanaramaya in Julampitiya built in memory of the President's father, veteran politician D.A.Rajapaksa.
Daily News
Latest Headlines in Sri Lanka