Speech delivered by President Maithripala Sirisena at the 71st Session of the United Nations General Assembly
Posted by Editor on September 22, 2016 - 7:17 am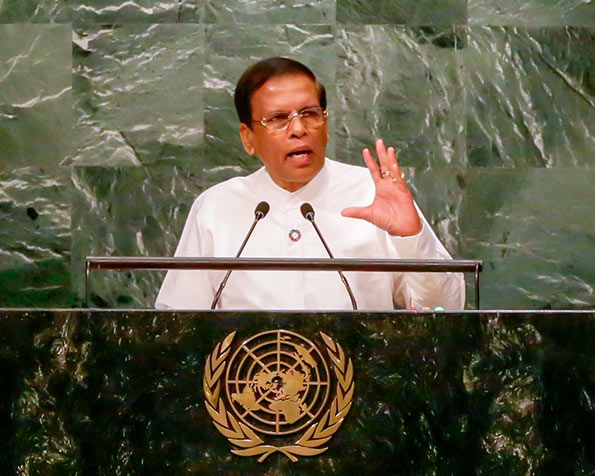 I am extremely happy to take part in this 71st Session of the United Nations General Assembly. I wish to bring to the notice of Your Excellencies the current situation in my country. I have been in power for the last 15 months. There are many problems in my country.
We have, in recent months, taken many important steps for socio-economic transformation. Before I came to power, people in my country were living in fear and I ended that period and made the people free of fear, established rule of law and restored democratic rights.
My intention is to make peole of Sri Lanka one of the happiest among the world communities by establishing a knowledge-based society. I am determined to alleviate poverty in my country. For that purpose I have declared 2017 as the Year of Alleviation of Poverty.
In order to improve the living standards of our people, we have to provide better facilities for economic development. I have given the topmost priority to take my country forward by working in cooperation with the United Nations and its agencies and other institutions. We have to make necessary changes to achieve sustainable development. The priority areas of the government include establishment of a knowledge-based economy with new initiatives and creation of a green economy.
As an Island-Nation, Sri Lanka wishes to make maximum utility of sea resources, fisheries and marine resources. All these require new technology and we seek the support of the international community for these purposes. Sri Lanka is a country with free education and free health services and the country has all the basic infrastructure requirements for speedy development.
The world today is full of hate, violence and fear. We must free our people from such hatred and fear and establish a society with moral values. The government is totally committed to reconciliation process to establish lasting peace. That would definitely prevent occurance of another war in our country. Terrorism lasting three decades has ended and now we have undertaken the process of reconciliation among the different communities. We require the support of the international community to successfully face these challenges.
Sri Lanka is a Buddhist country, where Theravada Buddhism is practiced. There are solutions in Buddhist teachings to most of the problems faced by the people in this world. Similarly, those who follow other religions like Hinduism, Islam and Christianity too can find answers to these problems by these great religious philosophies.
I am totally committed to eradicate drugs. As the President of Brazil said this morning, illicit drugs have become the most serious challenge faced by our societies today. Unless we take early steps to stop the menace of drugs we will be faced with a catastrophe of unprecedented magnitude. The harm caused to the people, especially the young students by illicit drugs is very serious. We have to eradicate drugs and ensure that illicit drugs would not reach our countries.
We have taken effective steps to strengthen democracy, rule of law and good governance in our country. We want to create a better country for our people. To achieve these, I need the assistance of the international community.
Different countries have their own unique authentic thinking. We too have such authentic thinkings and visions. I want to create a country, in which our people can live as better humans and I need your support for this endeavour.
I wish to take this opportunity to express appreciation about the services rendered by the outgoing UN Secretary General Ban Ki-moon. He provided and excellent service to the entire world.
I would like to metion that my desire is to arm the new generation with knowledge and modern technology. I will do my duties and fulfill my responsibilities towards my people and I seek your assistance and blessings of you all for this task.
Thank you
May the Triple Gem bless you!
Latest Headlines in Sri Lanka