SPINNER RAHUL SHARMA THROWN INTO JEOPARDY A S HE IS FOUND POSITIVE FOR DRUGS
Posted by Editor on July 21, 2012 - 11:01 am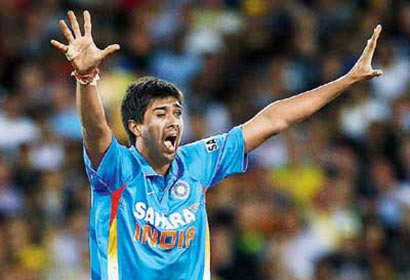 Onlanka News – by Walter Jayawardhana
Spinner Rahul Sharma's participation in the ODI in the India Sri Lanka match at Hambantota has been thrown into jeopardy as he has been tested positive for the drug test after having been arrested at a rave party in Bombay last May.
On the eve of the Hambantota clash both Sharma and South African cricketer Wayne Parnell who also took part in the party together with many others have been found positive for having imbibed themselves with narcotics and alcohoL at a rave party in a posh hotel.
The Times of India report said Sharma is facing immediate arrest . Wayne Parnell is in South Africa now.
"We have not received any communication from BCCI, So, it would not be proper for me to comment anything on this at this stage,"said the team's media manager  Ravi Jain.
"The BCCI will first procure each and every bit of relevant information and then study them before deciding on the course of action,"Cricket Control official said.
Giving the break-up of those who tested positive, police said that of the 42, three tested positive for cocaine and cannabis, 35 tested positive for only cannabis and four tested positive for cannabis and MDMA. "Eighteen have tested positive for alcohol," a police official said.
All of them will be booked under Section 27 of the Narcotic Drugs and Psychotropic Substances Act for consumption of drugs.
Under Section 64, those found to have consumed drugs for the first time could be sent for rehabilitation and de-addiction.
Urine and blood samples of all the detained persons were sent to the city's Cooper Hospital, Bhabha Hospital and Sir J J Hospital on May 21 after the police raided Hotel Oakwood on May 20 and busted a sun-down party on the suspicion that it was a rave party.
Latest Headlines in Sri Lanka