Sri Lanka admits 65,000 missing from war, insurrection
Posted by Editor on June 9, 2016 - 5:39 am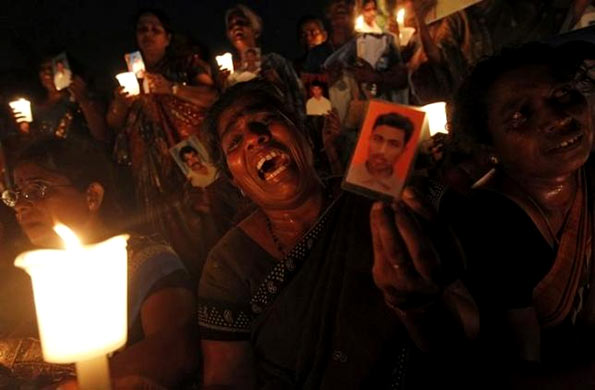 Sri Lanka acknowledged on Wednesday for the first time that some 65,000 people were missing from its 26-year-long war with Tamil Tiger rebels and a separate Marxist insurrection.
President Maithripala Sirisena's coalition government has agreed to address past human rights violations through independent probes and to implement a resolution by the United Nation Human Rights Council (UNHRC).
Former president Mahinda Rajapaksa's government had rejected the U.N. recommendations, saying it wanted to address rights concerns without any international pressure. Rajapaksa lost power in January 2015.
"Since 1994 various commissions have documented that there are about 65,000 people missing or not found to be dead," Chandrika Bandaranaike Kumaratunga, a former president and head of the new government's reconciliation office, told reporters.
"We will get a final list later from the office of missing persons."
The Tamil Tigers began fighting in 1983 for an independent Tamil state in the north and east of the island of Sri Lanka. Their insurgency ended in 2009. Separately a radical Marxist group waged an armed revolt against the government in 1987-89.
Sri Lanka also said on Wednesday a certificate of absence would be given to relatives allowing them to temporarily manage the property and assets of missing people, to obtain provisional guardianship of their children and apply for government welfare schemes.
The government has set up an office to independently investigate the cases of thousands of missing people, who are mostly from the ethnic minority Tamils, after the United Nations urged the government to probe such disappearances.
However, relatives have accused the government of doing almost nothing to find the missing people as promised in the U.N. resolution.
The government is due to make an oral representation in Geneva later this month on its progress in implementing the U.N. resolution, which aims to address rights violations.
The United Nations and rights groups have long urged justice for the families of those who disappeared during the war, including those who were alleged to have been secretly abducted by state-backed groups and paramilitary outfits.
(Reuters)
Latest Headlines in Sri Lanka