Sri Lanka Army continues community welfare in Alaveddy area, Jaffna
Posted by Editor on June 26, 2011 - 5:51 pm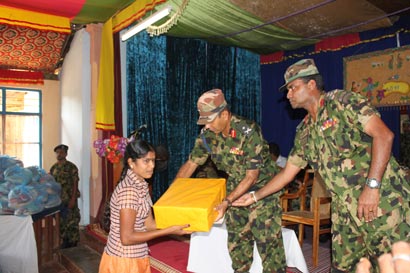 Onlanka News – By Janaka Alahapperuma
The Sri Lanka Army continues their community welfare and social projects for the villagers in the Jaffna peninsula where people need a helping hand to uplift their livelihoods. This time they extended their social work again in Alaveddy area under the directions of Security Forces Commander- Jaffna, Major General Mahinda Hathurusinghe, Security Forces Headquarters in Jaffna. The official function was held at the Mahajana Sabha Hall, Alaveddy on 23 June.
Under this programme, scholarships were awarded to 25 school children selected from poor families with law income. Each student was given a bank passbook with a deposit of Rs. 1000.00 and the same amount will go in to their accounts monthly for a period of one year as a helping hand given to enhance their education standard. In addition to scholarships, 5000 exercise books and other school items were distributed among school children in Alaveddy area. The total expense of the stock was Rs. 90,000.00.
At the same time, parcels of dry ration worth of Rs. 50,000.00 were also donated to 100 destitute families in Alaveddy area by the Army.
Meanwhile, during the function foundations were laid to two houses to be constructed by the Army for two homeless families in Alaveddy. Each house on its completion will cost the Army around Rs. 350,000.00.
Troops of the 513 Brigade of Security Forces Headquarters- Jaffna organized the event and worked tirelessly to collect funds from the Sri Lanka Army.
The Brigade also organized a blood donation camp at the same venue where 50 soldiers donated blood to the blood bank of Jaffna Teaching hospital.
General Officer Commanding 51 Division Major General Janaka Walgama graced the function as Chief Guest. Rev. Fr. Jude Sutharshan from Alaveddy Church, Security Forces Commander (Jaffna) Major General Mahinda Hathurusinghe, Divisional Secretariat Thelippalai Mr. S. Muralitharan, Brigade Commanders and a large gathering of civilians were present at the occasion.
It is a fact that people in those areas live in harmony and without any fear though they face many difficulties. The Sri Lankan government and some NGOs with the help of Armed Forces have provided them basic requirements and are very busy in developing those areas affected by 30 years of terrorism to provide a decent life. This welfare event funded by Sri Lanka Army personals in Jaffna is just one of many social and welfare activities carried out by them. There are thousands of such events that have been carried out by them since those areas were liberated.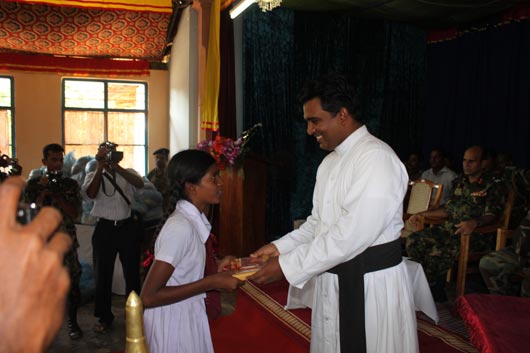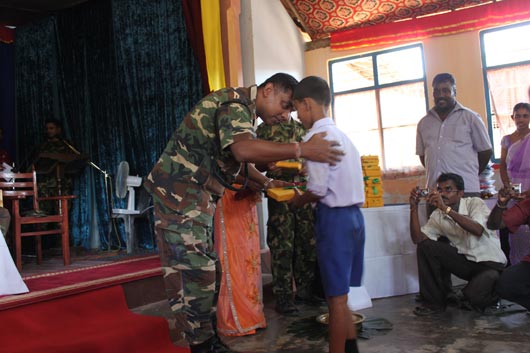 Latest Headlines in Sri Lanka