Sri Lanka blocks international impeachment probe
Posted by Editor on February 3, 2013 - 9:53 am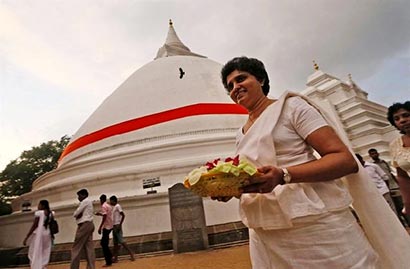 COLOMBO, (AFP): Sri Lanka has blocked entry of a London-based group of lawyers who planned to probe the controversial impeachment of the island's chief justice, the International Bar Association said on Saturday.
The group expressed "serious concern" over the withdrawal of visas for the Human Rights Institute lawyers, who were due to visit Colombo for 10 days starting Friday. The institute is a branch of the bar association.
The delegation was going to "consult a wide diversity of stakeholders" about "the rule of law and the independence of the judiciary in Sri Lanka", the association said. It did not say how many lawyers who were to travel to Colombo.
The panel was going to study Sri Lanka's sacking of chief justice Shirani Bandaranayake, the first woman to hold the nation's highest judicial office.
The government dismissed Bandaranayake despite two Sri Lankan court rulings that the impeachment was illegal and unconstitutional.
There was no immediate comment from Colombo on the association's statements.
Sri Lanka insists it followed proper legal procedures in firing Bandaranayake, 54, on charges of professional and personal misconduct. Bandaranayake was dismissed by President Mahinda Rajapakse on January 13 — two days after Sri Lanka's parliament voted to impeach her, despite a chorus of international criticism.
The United States has led international calls objecting to the impeachment as an assault on judicial independence and rule of law in the island.
Bandaranayake has been replaced by former attorney general Mohan Peiris who had been serving as the government's chief legal adviser.
Source: AFP
Latest Headlines in Sri Lanka