Sri Lanka buys 14 military helicopters
Posted by Editor on August 18, 2011 - 9:10 am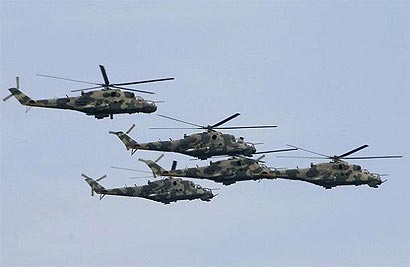 Sri Lanka, two years after winning a three-decade war against separatists, has bought 14 Russian military Mi-171 helicopters in the latest deal between the two allies, Russia's state-run arms exporter said yesterday.
The announcement comes as Sri Lanka this week discussed exploration and purchase of natural gas with Russia's natural gas monopoly Gazprom , in what may herald the return of Russian oil explorers to the island's waters.
Anatoly Isaykin, the general director at Russia's state-run arm exporter Rosoboronexport, said yesterday that there had been "delivery of the helicopters to Sri Lanka. It is a good transport vehicle and it fulfils its function."
Spokesmen for Sri Lanka's defence ministry and air force both said they were unaware of the deal for the Mi-171s. But air force spokesman Group Captain Andrew Wijesuriya said the military was aiming to expand its foray into civilian tourism.
"We are looking to contribute for civil air transportation industry through the expansion of our Helitours operations," Wijesuriya said, referring to the military's post-war repurposing of aircraft for tourism.
Sri Lanka, which has a $50bn economy, forecast a 6.3 percent increase in defence spending to 215.2bn ($1.9bn) in 2011 and its high military spending since the end of the war has drawn opposition criticism.
Russia's Ulan-Ude Aviation Works built the choppers and makes four variants, including military and VIP transport versions, Russia's state-run news agency ITAR-TASS said.
"A corresponding contract for supplying the helicopters will be carried out on account of the Russian state credit given to Sri Lanka by Russia in 2010 for purchasing Russian armaments," ITAR-TASS said, without mentioning the total deal cost.
Since the end of the war with Tamil Tigers separatists in May 2009, Russia, China and India have been increasing cooperation with Sri Lanka's government and are among its biggest benefactors in terms of global political capital.
Russia and China, both with UN Security Council vetoes, take a general stand that states have a right to police internal conflicts without outside interference. They have been Sri Lanka's bulwarks against Western pressure to probe allegations of war crimes from the final months of the conflict.
Reuters / DM Online
Latest Headlines in Sri Lanka