Sri Lanka celebrates Thai Pongal: President Rajapaksa participates National Ceremony in Jaffna
Posted by Editor on January 18, 2011 - 9:16 am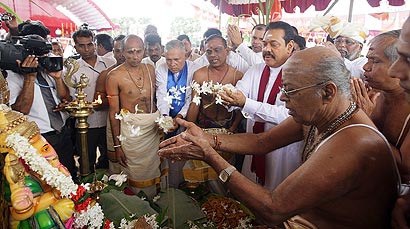 Onlanka News – By Janaka Alahapperuma
(Pix by: Sudath Silva)
President Mahinda Rajapaksa participated the Thai Pongal National Festival at Alfred Doraiappa Stadium in Jaffna this morning on 17 January while all the Hindus countrywide joined in celebrating the Thai Pongal festival on a grand scale. The main ceremony was made colourful by a special cultural pageant presented by the school children, local dancers and musicians.
Addressing the ceremony the President said that every politician's responsibility should be come forward to build a united Sri Lankan nation disregarding social, racial or religious differences. Furthermore, it is the responsibility of all who love the country and the culture to help to build a country safeguarding cultural values .He further said that the era of segregation based on petty politics must be ended with this year's Thai Pongal festival and the government's sole aim is to unite the country under one flag.
The president further pointed out that it is regretting to note that certain media groups are trying to build up erroneous notions. On behalf of the future generation he called upon all sectors to join hands to build and bring forward the country which went backwards for thirty years due to terrorism. He assured the people in the North that the government would not let any underworld or mafia groups to raise their heads in the South, North or any part of the country.
Addressing the Thai Pongal National Ceremony Traditional Industries and Small Enterprise Development Minister Douglas Devananda said all the previous governments attempted to evade the problems of the Tamil people, but only President Mahinda Rajapaksa genuinely came forward to resolve these problems. He further added that necessary measures have been taken to reconstruct and develop the Northern Province under the guidance of president and the rehabilitated LTTE cadres will be deployed for the future development of the country.
The president also handed over tractors to the local farmers and lap top computers to the Jaffna University students at the ceremony.
During his tour to the North, President Rajapaksa also visited the Nallur Kovil and Sri Naga Pooshani Amman Kovil and participated religious observances and received Hindu religious blessings. He joined Hindu devotees in Poojas wishing peace, happiness and success. The President also paid homage to Naga Viharaya in Jaffna and Nagadeepa Temple in Nainativu Island.
A large number of Hindu devotees joined in the Thai Pongal National Ceremony and the religious observances, including the new Rice Festival organized wishing prosperity to the country.
Northern Province Governor, Major General (retd.) G.A. Chandrasiri, Secretary to the President Lalith Weeratunga, many Parliamentarians, local politicians, distinguished guests, university students and school children were present at the ceremony.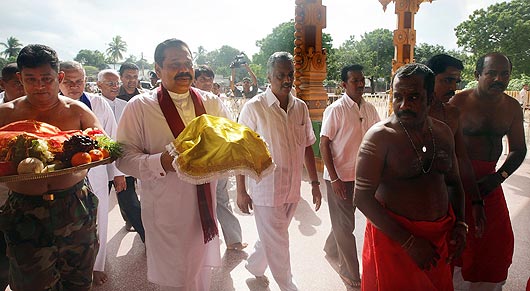 Latest Headlines in Sri Lanka