Sri Lanka challenges war crimes allegations
Posted by Editor on June 15, 2010 - 10:08 am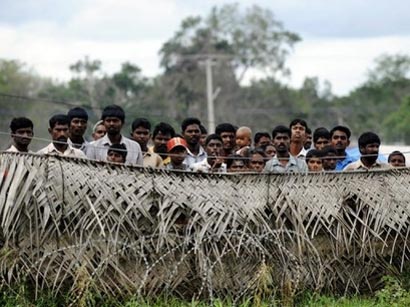 COLOMBO (AFP) – Sri Lanka's top defence official challenged international rights groups Tuesday to produce evidence of war crimes allegedly committed in the final months of the country's civil war.
Defence Secretary Gotabhaya Rajapakse said those making the allegations should present evidence before Sri Lankan courts instead of talking to the international media.
"If there is evidence, it can be brought to the notice of the established Sri Lankan judicial system," Rajapakse told the Sinhalese-language Lankadeepa newspaper. "They can even go through lawyers and inform the police."
Sri Lanka has consistently resisted international calls to probe allegations that thousands of Tamil civilians were killed during the final months of fighting against the Tamil Tiger rebels last year.
"I challenge them to produce evidence (of war crimes). There is no point in giving photographs and videos to the media. We have an established legal system. Use it," Rajapakse added.
His remarks came ahead of visit to the island by UN chief Ban Ki-moon's top political adviser, Lynn Pascoe, and a top Japanese envoy, Yasushi Akashi.
Both envoys are expected to push Sri Lanka to swiftly move towards ethnic reconciliation a year after defeating the separatist Liberation Tigers of Tamil Eelam (LTTE) guerrillas, who were fighting for a Tamil homeland.
Ban is due to appoint a panel to advise him on accountability issues in Sri Lanka following wide-spread allegations by international rights groups and Western nations that both sides were responsible for crimes against humanity.
The top Sri Lankan army commander at the time, General Sarath Fonseka, has denied any wrongdoing, but has agreed to testify before any war crimes tribunal.
Fonseka fell out with the government and quit in November before unsuccessfully challenging President Mahinda Rajapakse's re-election at January polls.
Fonseka has since been arrested and faces two courts martial for alleged corrupt deals and dabbling in politics while in uniform.
Gotabhaya Rajapakse, who is the president's brother, told the BBC earlier this month that Fonseka would be executed as a traitor if he tried to expose alleged war crimes.
The United Nations estimated that 7,000 civilians were killed in fighting in the early months of last year before government troops overwhelmed the rebels and ended the decades-long separatist campaign.
Latest Headlines in Sri Lanka