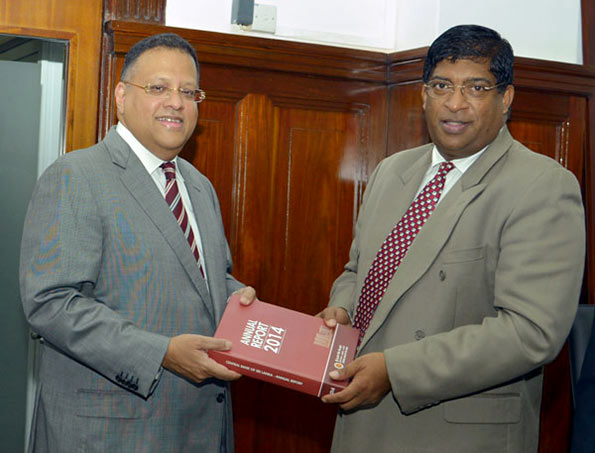 Sri Lanka's economy grew by 7.4% (Agriculture 0.3%, Industry 11.4%, service 6.5%) last year, according to the Annual Report of the Central Bank of Sri Lanka for the year 2014 which was launched today.
The report was submitted to Ravi Karunanayake, the Minister of Finance by Mr. Arjuna Mahendran on Wednesday.
An overview of the Sri Lankan economy in 2014 as reflected in the Annual Report, states that the growth momentum of the Sri Lankan economy continued, while inflation declined further to low single digit levels during the year.
"The economy that was initially projected to grow in real terms by 7.8 per cent, recorded a growth of 7.4 per cent in 2014, in comparison to the growth of 7.2 per cent in 2013."
Amidst uneven developments in the global economy, continued domestic economic activity helped sustain the growth in the Industry and Services sectors, while adverse weather conditions dampened the performance of the Agriculture sector during the year, the report said.
Meanwhile, in the fiscal sector, despite the government's announced commitment towards fiscal consolidation, the overall fiscal deficit increased to 6.0 per cent of GDP in 2014 from 5.9 per cent of GDP in the previous year, mainly as a result of the continued shortfall in revenue collection.
Nevertheless, public debt as a percentage of GDP declined to 75.5 per cent by end 2014 from 78.3 per cent by end 2013, the report said.
(Ada Derana)