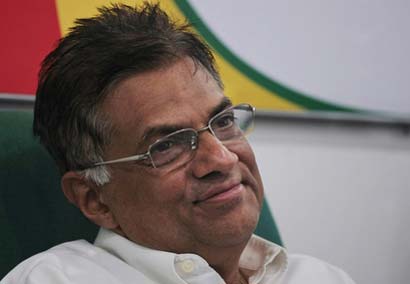 COLOMBO (AFP) – On the eve of Sri Lanka's parliamentary elections, the main opposition accused the ruling party Wednesday of campaign abuses and said it did not expect polling to be free and fair.
The opposition United National Party (UNP) said President Mahinda Rajapakse's administration had used state-owned vehicles and buildings for campaigning and turned the government-run media into a party mouthpiece.
"There was a suppression of private media. Journalists were attacked and abducted by those connected to the government," UNP leader Ranil Wickremesinghe told reporters in Colombo. "Editors were arrested and intimidated."
He said the state-run media had carried out biased reporting to favour Rajapakse's United People's Freedom Alliance.
"Some people feel that there is no point in voting Thursday because their votes will not make a difference due to rigging," Wickremesinghe said. "We appeal to the people to go and vote. Please. There is an opportunity to change the government."
He accused the police of failing to implement election laws and favouring ruling party candidates, a charge already denied by the authorities.
Elections Commissioner Dayananda Dissanayake has gone on record as saying the police and public servants had ignored some of his directives to ensure a fair poll.
Political observers expect the president's party to secure an easy majority on Thursday, following his resounding victory over the combined opposition candidate at the January 26 presidential polls.
The opposition is challenging Rajapakse's re-election in the Supreme Court.
District officials said most of the 100,000 public servants conducting the vote began fanning out to 11,000 polling booths across the country on Wednesday.
Military officials said nearly 20,000 troops had been called to reinforce police security on Thursday, which marks the first parliamentary polls since last year's defeat of Tamil Tiger rebels.
A total of 7,620 candidates from 36 political parties and 10 independent groups are in the running for the 225 seats up for grabs under a proportional representation system.