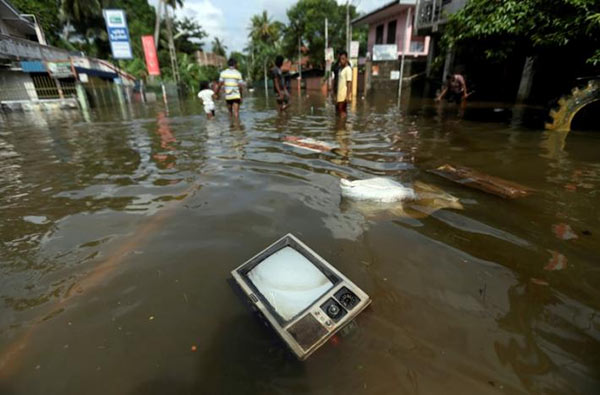 Landslides and floods in Sri Lanka have killed at least 151 people and the country faces the risk of more mudslides as torrential rains continue, officials said on Sunday.
More than 100 people are still missing after the worst rains in the Indian Ocean island since 2003.
The state-run National Building Research Organization warned people in seven out of the country's 25 districts to evacuate from unstable slopes if rains continue for the next 24 hours.
The Department of Meteorology said there could be heavy rain falls of above 100 millimeters in central Sri Lanka within the next 36 hours.
The death toll has risen to 151, while 111 people are still reported missing and 95 injured, the state-run Disaster Management Center said.
Nearly 500,000 people have been affected by the disaster, the worst since the 2004 Boxing Day tsunami, and the downpours have displaced over 100,000 Sri Lankans.
People in Agalawatte, 74 km (46 miles) from the capital Colombo, said they were losing hope of water levels falling soon.
"All access to our village is cut off. A landslide took place inside the village and several houses are buried. But nobody could go to that place," Mohomed Abdulla, 46, told Reuters in Agalawatte, a town in western coastal district of Kalutara, where 47 people have died and 62 are missing.
Rescue efforts are under way but are hampered by lack of drinking water, lack of electricity and continued rain.
Reuters witnessed some people stranded on the upper floors of their homes and some houses were flooded up to roof level.
Civilians and relief officials, sailing in boats, distributed food, water, and relief items.
Sri Lanka has already appealed for international assistance from the United Nations and neighboring countries.
Some areas in the southern coastal district of Galle, popular with foreign tourists, have not received relief materials due to lack of access.
"My entire village is cut off and nobody can come to this village," C.M. Chandrapla, 54, told Reuters over the phone from the tourist village of Neluwa. "There are no supplies for the past two days. Water has gone above three-storey buildings and people survive by running onto higher ground."
Sri Lankan military and rescue teams have used boats and helicopters, but they said access to some areas was very difficult.
Military spokesman Roshan Senevirathne said more than 2,000 military personnel had been deployed to help the police and civilian agencies.
The wettest time of the year in Sri Lanka's south is usually from May to September.
Sri Lankan meteorology officials said the rains were the worst since 2003 and they expected more in the coming days.
(Reuters – By Dinuka Liyanawatte / Pix By Dinuka Liyanawatte)