Sri Lanka Government ready to discuss scopes on Police, land powers with TNA – Govt Spokesman Keheliya Rambukwella
Posted by Editor on January 3, 2012 - 12:31 pm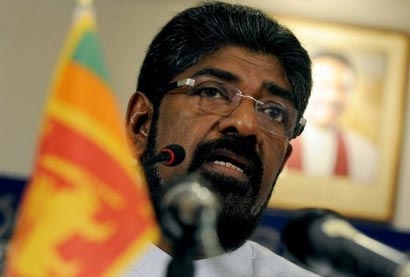 Sri Lankan Government spokesman, Media Minister Keheliya Rambukwella said that though the government is concerned about giving land and Police powers to the provinces it is prepared to consider its scope provided the Tamil national Alliance put forward its proposals at the talks with the government
The Minister told Sri Lanka News .lk web site that the government has concerns about devolving absolute Police powers to the provinces as in such an event the head of the country could be barred from entering the province without the Police permission.
The minister said that a similar situation that prevails in India is very much detrimental to Sri Lanka as Sri Lanka is a smaller country in size than even an Indian State.
"As a Government we are concerned about giving Police and Land powers to provinces. However, we are ready to consider giving those powers within certain scope if such a proposal is made by the TNA to the Government. For that the TNA should remain at talks with the Government" Minister Keheliya Rambukwella said.
"Dealing with day to day affairs such as smaller crimes and complaints could be dealt with by Provincial authorities"
The parties concerned should first sit and talk on matters that could be agreed upon. Unfortunately from the days the talks began in Thimbu in 1985 what the Tamil parties did was running away from the talks halfway and create a deadlock to portray a situation to the international community that the Government of Sri Lanka was giving nothing to them. But this is not the case, the minister said.
Media Minister Keheliya Rambukwella said that before arriving at any decision both parties should first sit and talk and the TNA should be mindful of this fact. Soon after the end of thirty year war in May 2009, the Tamil National Alliance and the Government of Sri Lanka held several rounds of talks to iron out problems and to find out lasting solutions to Tamils problem especially in the north and the eastern provinces in the country. But now the TNA seems to be dragging without a final decision to continue its talks with the government.
Source: Government News Portal
Latest Headlines in Sri Lanka