Sri Lanka has potential to become next Asian Tiger: US
Posted by Editor on February 9, 2017 - 8:19 am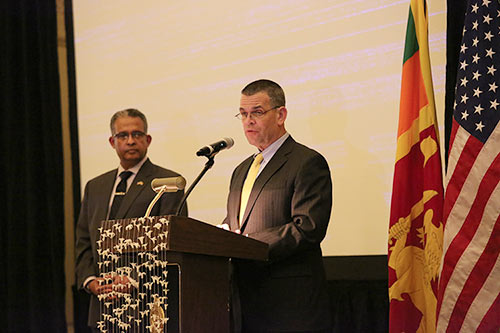 Washington: Sri Lanka has the potential to become the next Asian Tiger, a top US official said, lauding the government's renewed commitment towards reconciliation and unprecedented level of cooperation between the two countries.
"The United States will continue to stand with you as your friend and your partner. While our level of cooperation today is unprecedented, there is always more progress to be made," Acting Under Secretary of State for Public Diplomacy and Public Affairs Bruce Wharton said during his address at the celebrations hosted by the Embassy of Sri Lanka here on Monday to mark 69th anniversary of Sri Lanka's independence.
"Today Sri Lanka has the potential to become the next Asian Tiger," Wharton said.
Lanka, he said, boasts one of the most strategic maritime locations in the entire Indo-Pacific: at the nautical crossroads of Africa, South Asia, and East Asia, with the Strait of Hormuz to its west and the Strait of Malacca to its east.
"Forty per cent of all seaborne oil passes through the former and half the world's merchant fleet capacity sails through the latter, making the sea lanes off of Sri Lanka's southern coast some of the world's most important economic arteries," Wharton said.
Pointing to US economic cooperation with Sri Lanka, he said, all of this cooperation would not be possible without the democratic progress Sri Lanka has made and its renewed commitment to reconciliation, accountable government, and freedom of expression.
Sri Lankan Ambassador to the US, Prasad Kariyawasam said leaders of Lanka look forward to working with new US Administration to build on the exponential progress of the multi-faceted bilateral relationship, nurtured especially during the last two years.
As an "island nation" considered a pre-eminent maritime hub of the Indo-Asia-Pacific, Sri Lanka values its ever-growing partnership with the US, Kariyawasam said.
The US can be a natural partner to Sri Lanka as it progresses on the challenging transformative journey, to develop the nation as a modern democracy, rapidly integrating with the world of business and trade, in peace and friendship, for the mutual benefit of both countries, the Ambassador said.
The celebrations were attended by a large gathering of Sri Lankan Americans, the diplomatic community, senior US government officials and several Representatives from the US Congress, including Chairman of the Congressional Caucus on Sri Lanka Robert Aderholt, member of the Sri Lanka Caucus David Price, and Chairman of the House Foreign Affairs Asia and the Pacific Subcommittee Ted Yoho.
(PTI)
Latest Headlines in Sri Lanka