Sri Lanka has 'significantly' benefited by engaging with UN Systems – Ravinatha Aryasinha
Posted by Editor on September 16, 2016 - 9:01 am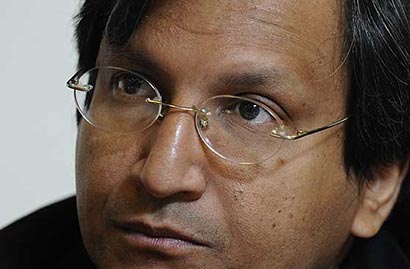 Sri Lanka told the 33rd session of the UN Human Rights Council (UNHRC) on Thursday, that constructive engagement with the Special Procedures and the UN system as a whole has benefitted Sri Lanka "significantly", and it looks forward to continuing the engagement.
"We believe that engagement with the UN system and the Human Rights Mechanisms is in the best interest of the people of our country, to obtain advice and views, and also expertise and technical assistance that will benefit us in terms of capacity building and ensuring the strengthening of our own local institutions," said Ravinatha Aryasinha, Sri Lanka's Ambassador to the UN system in Geneva  while speaking on the Report of the Working Group on Enforced and Involuntary Disappearances (WGEID) at the UNHRC on Thursday.
He further said that Sri Lanka hopes that it will receive the support required from the international community as a whole in capacity building and strengthening institutions, and also ensuring economic development which is essential for entrenching the reform agenda undertaken by the government.
WGEID had toured Sri Lanka from November 9 to 18, 2015, at the invitation of the Sri Lankan government. The three-member UN team was given free and unhindered access.
"We are pleased that the Working Group, in its Report, has "appreciated the openness and cooperative disposition of the officials. The Government considers its engagement with this Working Group as an important component of the reconciliation efforts in the country," Aryasinha said.
"The Government has already taken concrete legislative and policy measures to translate its promises to the people of Sri Lanka, into action even amidst the many challenges being posed by certain extreme elements who attempt to pose obstacles to the Government's sincere efforts at ensuring that the rights of all persons are promoted and protected and recurrence of violations that happened in the past are prevented," Aryasinha told the council.
Sri Lanka ratified the International Convention for the Protection of All Persons from Enforced Disappearance on May 25, 2016. The process of drafting enabling legislation to incorporate the provisions of the Convention into Sri Lanka's domestic law through an Act of Parliament, is underway. This should be presented to the Cabinet and thereafter to Parliament shortly.
On August 11, 2016, parliament passed, without a vote, legislation to establish an independent 'Office on Missing Persons' (OMP).Following its certification by the Speaker on 23 August 2016, the legislation has now been gazetted as the Act. No. 14 of 2016.
Currently, steps are being taken to allocate funds for the Office on Missing Persons in the Budget for 2017 which is to be presented to Parliament in November this year.
"We are pleased to say that the Office on Missing Persons has been endowed with the recommendations made by the Working Group in paragraph 79 of its Report and the Office also has the provision to enter into agreements with organizations including international organizations in the pursuit of its work,"  Aryasinha pointed out.
(Source: The New Indian Express)
Latest Headlines in Sri Lanka