Sri Lanka hits back at U.N. rights chief after visit
Posted by Editor on September 5, 2013 - 8:08 am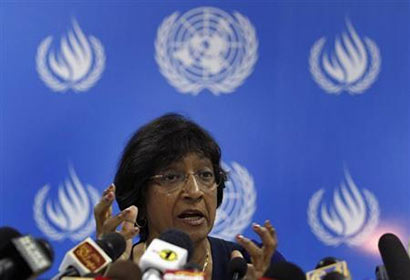 COLOMBO (Reuters) – Sri Lanka's government criticized the U.N.'s top human rights official on Wednesday for calling attention to accusations that police and soldiers had harassed people who met her during a visit to the country's former war zones.
Navi Pillay, ending a mission to assess Sri Lanka's progress after a 26-year war between the government and separatist Tamils, said on Saturday she had received reports that people she had met in the north and east during her seven-day trip were questioned and intimidated.
She said the U.N. viewed any reprisals against people who talked to its officials as an extremely serious matter and that such harassment "appears to be getting worse in Sri Lanka, which is a country where critical voices are quite often attacked or even permanently silenced".
Government spokesman Keheliya Rambukwella said Pillay should not comment on accusations from people who fail to produce evidence.
"If it has happened, it has to be reported to the police station. Then inquiries can be conducted," said Rambukwella, adding that the police had received no complaints.
"I have no evidence that she had inquired from authorities (about harassment)," he said. "She just said that because somebody has just told her."
Pillay – a South African of Indian Tamil origin – said people were still suffering four years after the end of the war and there were signs the country was becoming more authoritarian.
The government later said the United Nations High Commissioner for Human Rights had acted beyond her mandate with the comments.
Her visit followed a U.S.-sponsored U.N. resolution in March that urged Sri Lanka to carry out credible investigations into killings and disappearances during the war, especially during its final stages.
She visited the former northern war zones in Jaffna, Kilinochchi, Mullaitivu and the eastern district of Trincomalee, and met leaders in the capital, Colombo. The visit sparked demonstrations both supporting and opposing her mission.
New York-based Human Rights Watch said on Wednesday that Sri Lanka's government should promptly investigate the allegations that security forces harassed people who met with the U.N. human rights chief.
Rambukwella dismissed the demand, saying: "We don't take Human Rights Watch seriously at all as they are totally biased". (Reuters)
Latest Headlines in Sri Lanka