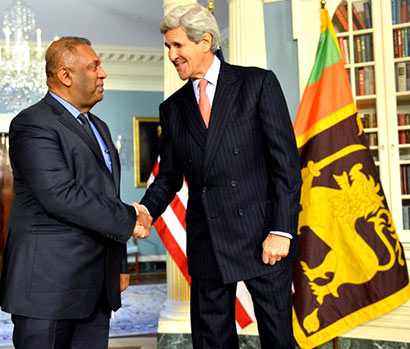 Sri Lanka's Foreign Minister Mangala Samaraweera Thursday met Secretary of State John Kerry at the Department of State for an hour-long discussion.
US Secretary of State John Kerry welcoming Sri Lanka's Foreign Minister Mangala Samaraweera said "This is an exciting moment for all of us because Sri Lanka on January 8th had an historic election in which there has been really a vote for change, a vote to move Sri Lanka in a new direction, to open up greater accountability and possibility for the preservation of human rights, for democracy, for fighting corruption and putting together a government that will speak for and to the people.
"And we're particularly excited about the 100-day plan that the new government has put forward. We wish them well in the days ahead, and we're going to talk today about President Sirisena's thoughts about how to move Sri Lanka away from 30 years of war with the Tamils to a country that is inclusive and prosperous and peaceful".
"And so I'm happy to welcome the foreign minister of this new government here, and we look forward to working with him".
In response Foreign Minister Samaweera thanking Secretary of State Kerry, for the warm, cordial welcome said "I come here at a time when Sri Lanka is going through a democratic revival and we have embarked on a very ambitious program, the 100-day program, as the Secretary just mentioned, which is a program of far-reaching democratic reforms and constitutional amendments. And we will also be giving pride of place to the reconciliation process because we believe a new Sri Lanka based on the principles of unity in diversity – the diversity of cultures, diversity of ethnic groups, and diversity of religions – will be the cornerstone of the new Sri Lanka we are envisaging".
"We also hope to revive and strengthen the very strong bonds we have had with the United States for several decades, but of course, there have been – the relations have been somewhat strained given the last few years. And my job I feel is to ensure that we put back our relations to a irreversible state of excellence in the coming months, and I look forward to working very closely with Secretary of State Kerry and, of course, with the United States of America. For us, for the new administration, the United States of America is not a threat but a great opportunity", Minister Samaraweera added.
(Government News Portal / Pix – AFP)