Sri Lanka incurs loss in De La Rue Lanka money printing deal
Posted by Editor on July 1, 2018 - 8:00 am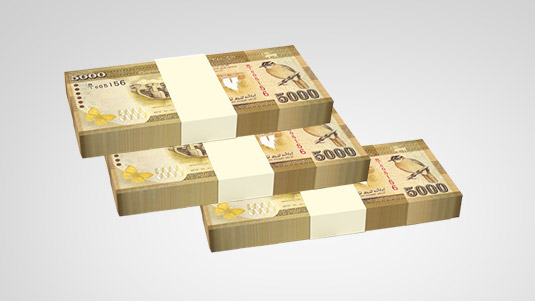 The Sri Lankan Government loses a colossal amount of money every year as the Central Bank (CB) is compelled to buy currency notes without competitive bidding from De La Rue Lanka Ltd at the price decided by the company itself, Finance Ministry statistics revealed.
Raising fresh questions over the procurement of currency notes from De La Rue Lanka under a joint venture, it has come to light, that due to single source procurement, the price paid by the CB to the company is far above the comparative market price of similar products.
The currency printing price of the local subsidiary of the UK money printer De La Rue is almost 'twice the market price' though the product is far below the internationally popular security and quality standards, according to a document submitted to the president.
CB pays De La Rue Lanka over Rs. 3 billion annually to print Sri Lankan currency notes causing a loss of approximately Rs. 1.5 billion to the country every year due to this non-transparent direct contract, Finance Ministry data showed.
De La Rue Lanka is paying only about Rs. 50 million as dividend per year to the Sri Lankan government against the 40 per cent shares held by the Ministry of Finance, while the CB overpays approximately Rs. 1.5 billion each year.
Therefore the 'net effect' of the banknote procurement transaction (which is the difference between the amount of money lost by the CB due to paying higher price for currency notes and the dividend earned by the government against the 40 per cent preferential shares owned by Finance Ministry) is highly negative and disadvantageous to the government.
According to statistics of the Departments of Treasury Operations and Public Enterprises, the return on investment for the government on this JV is less than 1 per cent per annum.
These facts have been brought to the notice in a document submitted to the president recently.
De La Rue Lanka, based in Biyagama and employing over 300 persons, is a joint venture between De La Rue and the Sri Lankan government.
This partnership has been in operation producing Sri Lankan currency notes since 1986.
De La Rue Lanka is one of the five centres of excellence for currency printing globally, alongside two centres in the UK, and its plants in Kenya and Malta. The Biyagama plant started out by producing notes just for the CB but it has expanded over the years and now exports between 70–80 per cent of the work produced here.
(Source: The Sunday Times)
Latest Headlines in Sri Lanka