Sri Lanka jails extremist Buddhist monk for six months over threats to woman
Posted by Editor on June 15, 2018 - 7:21 am
A Sri Lankan court on Thursday jailed for six months a Buddhist monk accused of inciting violence against Muslims after finding him guilty of intimidating the wife of a missing journalist, in a case seen as a test of the independence of the judiciary.
Galagoda Aththe Gnanasara, the secretary general of the hardline Bodu Bala Sena (BBS) or "Buddhist Power Force", was found guilty of having threatened the woman, Sandhya Eknaligoda.
"I have done my duty towards the country," Gnanasara told reporters as he boarded the bus taking him to prison. "Why should I regret?"
In 2016, Gnanasara interrupted a court hearing over the abduction of the journalist, Prageeth Eknaligoda, in which military intelligence officials were accused.
He shouted at the judge and lawyers because the military officials had not been allowed bail, and threatened Eknaligoda's wife.
On Thursday, Magistrate Udesh Ranathunga sentenced the monk to two terms of six months in jail, to be served concurrently, as well as a fine of 1,500 rupees, and a payment of 50,000 rupees ($313) as compensation to the journalist's wife.
The judge rejected Gnanasara's request to make a statement after he expressed disagreement with the sentence. He was taken to prison while fellow monks, who attended the hearing in his support, chanted Buddhist scriptures.
Gnanasara faces a separate contempt of court case over the same incident. It was not immediately clear if he would appeal against Thursday's sentence.
Dilantha Vithanage, the chief executive of the monk's BBS group, told Reuters it would appeal against the verdict.
The monk has faced accusations in cases regarding anti-Muslim violence, hate speech, and defaming the Koran, the Muslim holy book.
The BBS, led by Gnanasara, has been alleged by Muslims and some government ministers to have stirred up violence against Muslims and Christian, mainly in Buddhist-dominated parts of Sri Lanka, allegations the monk has denied.
In 2014, Gnanasara signed a pact with Myanmar's Ashin Wirathu, who once called himself "the Burmese bin Laden" in what they called the first step in a broad alliance against conversions by Islamists in the region.
(Reuters)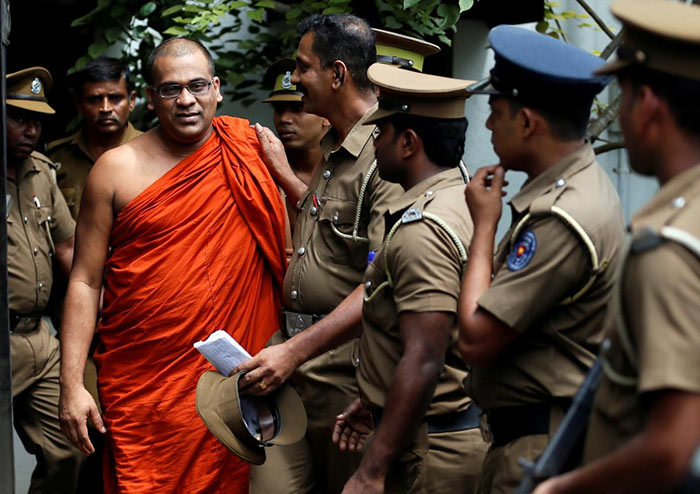 Latest Headlines in Sri Lanka