'Sri Lanka keen on signing as many FTAs in the region as possible'
Posted by Editor on August 29, 2018 - 8:00 am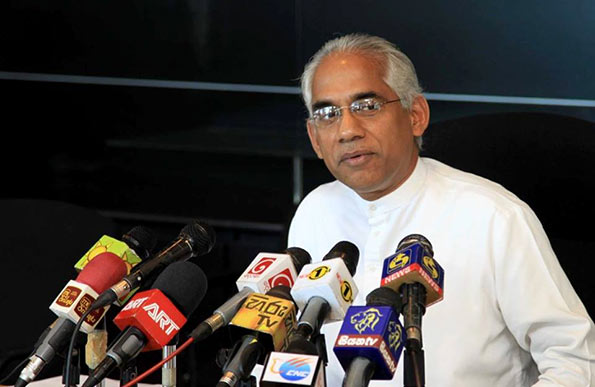 The government is keen to sign Free Trade Agreements (FTA) with other countries in order to position Sri Lanka as the largest trading market in the region, State Minister of Finance and Mass Media Eran Wickramaratne said.
" At present Sri Lanka has signed FTAs with several countries, including with India in 1998, with Pakistan in 2005 and a new FTA with Singapore, while negotiations have begun to sign an FTA with Thailand. Further, Bangladesh has indicated that they are willing to get into a trade arrangement with Sri Lanka, Wickramaratne said at a business interactive session with a Chinese business delegation at Kingsbury Hotel on Monday. An 18 member business delegation from China was organised by the " Belt and Road International Production Capacity Cooperation Promotion Center" Beijing. The purpose of this event was to promote business and investment between Sri Lanka and China.
State Minister said that they intend to sign an FTA with China who is the largest investor and development partner for Sri Lanka. " Sri Lanka is a small country with a small population and these FTAs would benefit us and provide access to many other countries in-terms of trade and business, he said.'With the signing of FTAs with other countries Sri Lanka could be promoted as a logistics and transport hub for others in the region, Wickramaratne said.
'Sri Lanka's national export strategy encourages exports out of Sri Lanka to make us one of the largest exporting countries in the region. Therefore, the national export strategy focuses on several sectors but could expand to other exports that do not come within the purview of the strategy, he said.
He said the Sri Lankan population is relatively small and the economy is a US$ 90 billion one, which experienced the highest growth rate of 8 percent when India and China were recording 8 or 9 percent growth rates in the recent past. However, when the Indian and Chinese growth rates were going down Sri Lanka was able to maintain a moderate growth rate, he said.
Senior advisor of Belt and Road International Procurement Capacity Promotion Center Kang Yi said that Sri Lanka is in an advantageous position to develop the economy in relationship with China
He said that Belt and Road programme will benefit many countries in the world when it comes to trade, business and investment.
(Source: The Island – By Hiran H.Senewiratne)
Latest Headlines in Sri Lanka