Sri Lanka Lesson Learnt Commission hands over its report to President
Posted by Editor on November 21, 2011 - 5:50 am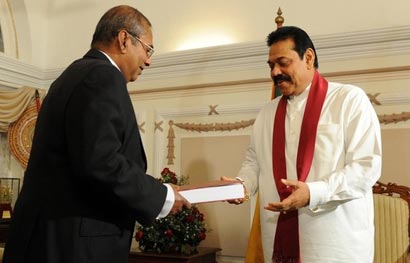 Sri Lanka Lesson Learnt Reconciliation Commission LLRC appointed to see whether any people, group or institution bears any responsibilities for the conflict in the country handed over its final report to President Mahinda Rajapaksa Sunday evening at the Temple Trees.
"Chairman of the LLRC Mr.C.R,de Silva handed over the report to President Mahinda Rajapaksa at Temple Trees" President Media Director General Mr. Bandula Jayasekara told news.lk
In May 2009 the Sri Lankan government concluded a thirty-year struggle against an internal terrorist insurgency which affected all communities and divided the nation. Sri Lanka now has an opportunity to create a multi-ethnic, democratic and peaceful future for all Sri Lankans. To support the drive towards national unity and reconciliation after decades of division, an independent Commission on Lessons Learnt and Reconciliation was established. It held its first sitting on Wednesday 11th August, an important landmark step for Sri Lanka as it returns to peace and stability.
Commission is part of an ambitious wider package of measures taken by the Sri Lankan government to drive the process of reconciliation and create the basis for a stable, prosperous future. Other measures include rolling back emergency legislation; an accelerated programme of resettlement, which has already resettled 90 per cent of the 300,000 people displaced internally; rehabilitation and retraining programmes for former combatants, including child soldiers; and sustained investment the north and east of the country to create the economic basis for unity and integration.
The independent eight-person Commission brings together eminent individuals representing all of Sri Lanka's communities. The Commission realises the enormous responsibility placed upon it at this important moment in Sri Lanka's history. Its conclusions will be drawn from the experiences and observations of the Tamil, Sinhalese and Muslim people, all of whom have suffered greatly during the past 30 years.
Based on international examples of best practise, key areas of interest for the commission:
• How to prevent a conflict such as this happening again;
• Whether any people, group or institution bears any responsibilities for the conflict; and
• Restorative justice – the steps that need to be taken to compensate or restore losses, whatever nature or form they may take.
The warrant issued by President is as follows:
NOW THEREFORE I, Mahinda Rajapaksa, President, reposing great trust and confidence in your prudence, ability, independence and fidelity, do, in pursuance of the provisions of Section 2 of the Commission of Inquiry Act (Chapter 393), by these presents, appoint you, the said;
1. Chitta Ranjan de Silva Esquire, PC
2. Dr. Amrith Rohan Perera Esquire, PC
3. Prof. Mohamed Thahir Mohamed Jiffry Esquire
4. Prof. Karunaratna Hangawatta Eq
5. Chandirapal Chanmugam Esq
6. Hewa Mathara Gamage Siripala Palihakkara Esq
7. Mrs. Manohari Ramanathan
8. Maxwell Parakrama Paranagama Esq
To be my Commissioners, to inquire and report on the following matters that may have taken place during the period between 21st February 2002 and 19th May 2009, namely;
i. the facts and circumstances which led to the failure of the ceasefire agreement operationalized on 21st February 2002 and the sequence of events that followed thereafter up to the 19th of May 2009;
ii. whether any person, group, or institution directly or indirectly bear responsibility in this regard;
iii. the lessons we would learn from those events and their attendant concerns, in order to ensure that there will be no recurrence;
iv. the methodology whereby restitution to any person affected by those events or their dependents or to heirs, can be effected;
v. the institutional administrative and legislative measures which need to be taken in order to prevent any recurrence of such concerns in the future, and to promote further national unity and reconciliation among all communities, and to make any such other recommendations with reference to any of the matters that have been inquired into under the terms of this Warrant
AND I do hereby appoint you the said Chittaranjan de Silva Esq, President's Counsel and retired Attorney General to be the Chairman of the said Commission;
AND I do hereby authorize and empower you the said Commissioners, to hold all such inquiries and to make all such investigations into the aforesaid matters as may appear to you to be necessary, and require you to transmit to me within six months of the date hereof, a report thereon under your hand, setting of the finding of requires and your recommendations relating thereto;
And I do hereby direct that such part of any inquiry relating to the aforesaid matters as you may in your discretion determine, shall not be held in public, And I do hereby require and direct all Public Officers and other persons to whom you may apply for such assistance or information for the purpose of your inquiries or investigations, to render all such assistance and furnish all such information as may be properly rendered and furnished in that behalf;
And I do hereby declare that the provisions of Section 14 of the Commissions Inquiry Act (Chapter 393) shall apply to the Commission;
GIVEN at Colombo, under the seal of the Democratic Socialist Republic of Sri Lanka, this 15th day of May two thousand and ten.
Source: Government News Portal
Latest Headlines in Sri Lanka