Sri Lanka makes significant progress at the World Bank – IMF spring meetings in Washington
Posted by Editor on April 16, 2023 - 8:35 am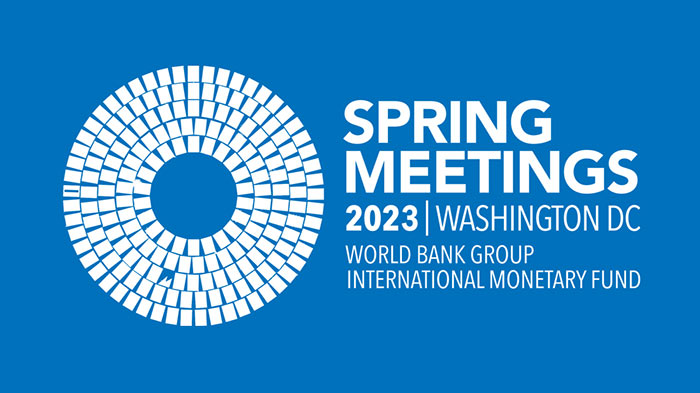 Sri Lanka makes significant progress in restructuring its debt and solving the economic crisis at the 2023 spring meetings of the World Bank Group and the International Monetary Fund in Washington DC.
The 2023 spring meetings of the World Bank Group and the International Monetary Fund took place between the 10th and the 16th of April.
A delegation led by State Minister of Finance Shehan Semasinghe attended the meetings in Washington.
State Minister Shehan Semasinghe said it was a very significant week for Sri Lanka at the meetings to solve the economic crisis.
The State Minister said the Sri Lankan delegation engaged with global leaders to discuss Sri Lanka's priorities and explored opportunities for collaboration to further the progress the government has made towards economic recovery and debt sustainability.
The Lankan delegation met with high-ranking officials of the World Bank, IMF, and other international organizations.
Discussions were also held with representatives of G7 nations and developed economies.
Meanwhile, Japan, India and France earlier this week announced a common platform for talks among bilateral creditors to coordinate restructuring of Sri Lanka's debt.
Speaking during the launch, Japanese Finance Minister Shunichi Suzuki said the launch of the negotiation process is a historic feat.
The initiative launched by Japan, this year's G7 chair, with the aim of kicking off a series of meetings among Sri Lanka's creditors.
Japanese Finance Minister Shunichi Suzuki said, "To be able to launch this negotiation process gathering such a broad-based group of creditors is a historical outcome."
Japanese Finance Minister Suzuki said the committee is open to all creditors.
During the event, President Ranil Wickremesinghe said Sri Lanka remains committed to continue to engage with all creditor nations and other stakeholders in a transparent manner based on the principles of comparable treatment.
President Wickremesinghe joined the press briefing in Washington virtually and thanked the government of Japan for organizing the crucial meeting together with the government of India and France.
The Head of State noted that the launch marks the beginning of the coordinated efforts of official bilateral creditor nations to make swift progress to resolving Sri Lanka's debt issue.
President Wickremesinghe said that the International Monetary Fund program has been presented to Parliament for approval, and the government aims to introduce new legislations that would incorporate the main features of the IMF arrangement.
The President said, "We thank the authorities of Paris Club as well as non Paris club nations offering timely financing assurances that enabled the IMF for Sri Lanka's request for a fund supported comprehensive economic adjustment program."
During the briefing, President Wickremesinghe said that he hopes other bilateral and multilateral partners as well as commercial creditors will also join in providing assistance for Sri Lanka to successfully complete the debt restructuring process at the earliest.
(News Radio)
Latest Headlines in Sri Lanka