Sri Lanka opens £955.9 million port to outside investors
Posted by Editor on August 2, 2010 - 1:14 am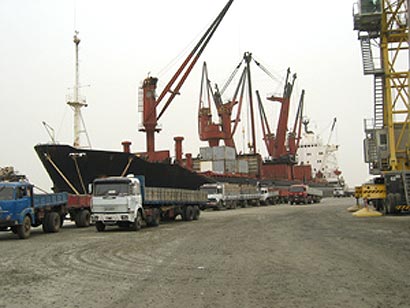 News Source: Reuters
Sri Lanka on Sunday said it would invite outside investors into its $1.5 billion (955.9 million pounds) Hambantota port project, the keystone of a $6 billion (3 billion pounds) post-war infrastructure revitalisation drive.
The invitation for external investment will coincide with the November opening of the port on Sri Lanka's southern coast, along an ancient "Silk Road" trading route and one of the world's biggest East-West shipping lanes.
The port and its accompanying services represent the single largest investment option for foreign investors in Sri Lanka, which is aiming to transform its economy after finally ending a quarter-century separatist war in May 2009.
One option that is not on the table for outside investors is the oil bunkering facility. Many have speculated China wants the right to use the site as part of its "string of pearls" strategy to expand its influence and maintain energy security.
"We will handle oil bunkering. We don't want to give it outside. But bulk cargo handling, storage facility, warehouses, transshipment, and all others are open for investments," Sri Lanka Ports Authority Chairman Priyath Wickrama told Reuters.
About 30 investors — primarily from India, China, Singapore, Russia, the Middle East, Australia and major shipping lines — have expressed interest, Wickrama said. He did not elaborate further.
CHINESE PEARL?
China, Sri Lanka's largest infrastructure lender, has loaned $425 million (270 million pounds) towards the port, which will be Sri Lanka's largest.
"We are negotiating with China for an $800 million (509 million pounds) loan for the second phase," Wickrama said.
Wickrama declined to say if China will have a role in operating the bunkering facility, about which neighbouring India has expressed concern to the Sri Lankan government.
Political analysts say Sri Lanka has successfully managed Indian pressure over the Chinese port investment, which could also help transhipment trade on the subcontinent.
Hambantota is one of four ports being built or upgraded under President Mahinda Rajapaksa's plans to renew the Indian Ocean island nation's $42 billion (26 billion pounds) economy by returning it to its old and lucrative role as a trading hub.
Sri Lanka initially aims to get 2,500 of the 70,000 cargo vessels that pass Hambantota annually to use its bunkering and cargo handling facilities, and expand that to 8,000 a year once the second phase is done in 2014.
Sri Lanka now handles around 6,000 ships annually in its only port in Colombo on the western coast, which requires ships plying the East-West shipping lanes to divert.
Initially, Hambantota will have 100,0000 metric tonnes of bunkering capacity, which could be expanded to 4 million metric tonnes if demand picks up.
Reuters
Latest Headlines in Sri Lanka