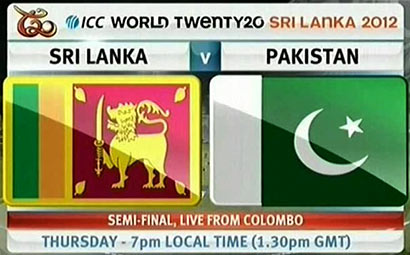 Former champions Pakistan and hosts Sri Lanka clash in the first semi-final of the World Twenty20 in Colombo on Thursday, banking on the quality spinners in the two camps.
The pre-match focus revolved around Sri Lanka's unorthodox spinner Ajantha Mendis and Pakistan's prolific Saeed Ajmal, both of whom have been the highest wicket-takers for their respective teams in the competition.
While Mendis has taken nine wickets, Ajmal has eight.
Mendis achieved the best figures in Twenty20 internationals with six wickets for eight against Zimbabwe in the preliminary league and remains the trumpcard for the hosts despite conceding 40 runs in four overs against England in Super Eights.
Pakistan had 18 overs of spin during their 32-run win over Australia on Tuesday as Ajmal was ably supported by Shahid Afridi, 20-year-old left-armer Raza Hasan and skipper Mohammad Hafeez.
Sri Lanka has the added bonus of sling-arm fast bowler Lasith Malinga, who grabbed a career best 5-31 against England and remains one of the most destructive wicket-takers in the game.
Sri Lankan captain Mahela Jayawardene said he was confident about his team reacting well to Pakistan's challenge.
"We have played each other quite frequently and it's been a good contest," Jayawardene told reporters on Wednesday. "They've got some quality spinners but we just need to make sure that we execute our things well against them.
"Both Ajmal and Mendis have shown how good they are in this competition. It's going to be a big game for everybody, not just for those two guys. It's a huge game for both sides."The semi-final is a repeat of the 2009 final in England when Pakistan beat Sri Lanka at Lord's to win the title.
The hosts will also depend on a seasoned batting line-up led by Jayawardene to win their first major tournament since the 50-over World Cup in 1996.
But the seasoned skipper was not looking too far ahead.
"We need to get to the final first before thinking of the title," he said. "We may not have won too many finals but getting there itself shows that we have played consistent cricket."Pakistan captain Hafeez played down the hype around spinners.
"We are blessed with world-class spinners but I think we have to play good all-round cricket to win the semi-final and we will look for that once we enter the field," said Hafeez, who regarded Sri Lanka as tough opponent.
"Sri Lanka is playing good cricket and I am happy the way we have played so far and hope that we keep the intentions positive," said Hafeez, who said crowd support for Sri Lanka will not matter to Pakistan.
"We have been playing our cricket away from home, so we are quite used to of it and I think the Sri Lankan crowd is sensible enough to support good cricket from both the teams," said Hafeez. "It will surely be a good contest."International cricket has been suspended in Pakistan since terrorists' attacks on the Sri Lankan team bus in Lahore three years ago. (AFP)