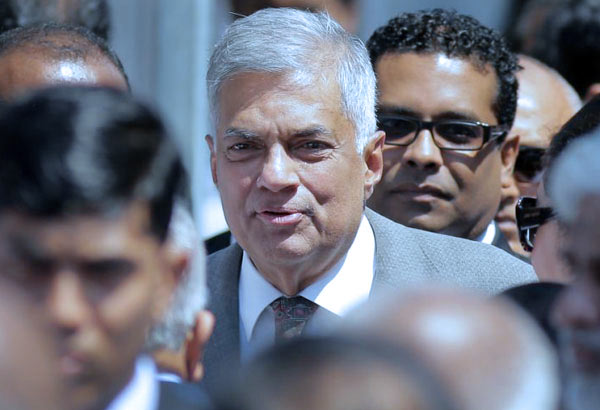 Sri Lankan Prime Minister Ranil Wickremesinghe appeared voluntarily before a panel investigating alleged irregularities in government bond sales on Monday to clear his name.
It marked the first time a Sri Lankan prime minister has appeared before an investigation panel and responded to questions raised by the Attorney General's Department.
Appointed by President Maithripala Sirisena after demands from opposition lawmakers, the panel has been looking into a 2015 central bank bond deals that some government critics said raised government borrowing costs.
Sirisena has vowed to punish those responsible if there is any irregularities in the bond sale. The panel will submit its finding to Sirisena next month.
Wickremesinghe, during an hour of questioning, said he requested the then central bank chief hold a new public Treasury bond auction after finding gray areas in the previous government's borrowing.
"Trillions of rupees have been taken without any authority. Many borrowings did not appear on government books," he said adding that up to 100 billion rupees ($650.62 million) had been borrowed for highways without being included in government books.
The auction, originally intended to sell 1 billion rupees ($6.51 million) of 30-year bonds, eventually grew to over 10 times that amount to meet government borrowing needs.
More than half of the issue was sold to Perpetual Treasuries, a subsidiary of a company owned by the son-in-law of former central bank governor Arjuna Mahendran, whom Wickremesinghe had appointed.
Wickremesinghe, Perpetual Treasuries, Mahendran and his son-in-law have all denied any wrongdoing. Wickremesinghe's supporters also say there was nothing wrong with the sale.
Wickremesinghe, prime minister since January 2015, said the additional amount was needed for highways payments and was not included in government books under the previous regime. The auction system, instead of private placement, was introduced to ensure transparency.
Opposition lawmakers have said the bond auction in question lost the state more than $1 billion because of rising borrowing costs. But the central bank has dismissed the opposition's claims.
Political analysts have suggested that opposition lawmakers have been trying to discredit Wickremesinghe's anti-corruption policies and create a rift in the coalition government formed in 2015 by Sirisena's centre-left party and Wickremesinghe's centre-right party. ($1 = 153.7 rupees)
(Reuters)