Sri Lanka Police started investigation after Harak Kata's escape attempt
Posted by Editor on September 12, 2023 - 7:26 pm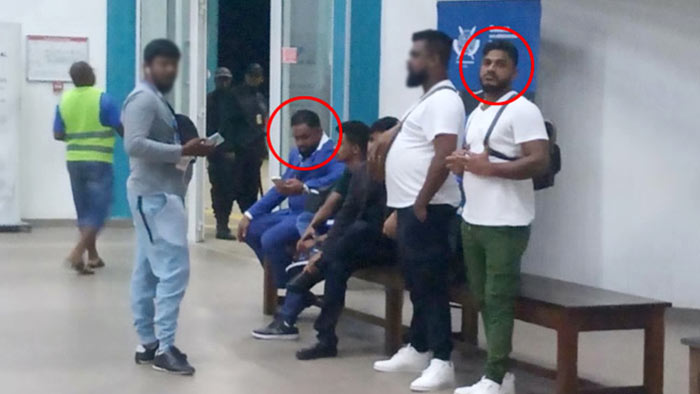 Sri Lanka Police launched a special investigation after an underworld gangster Nadun Chinthaka also known as 'Harak Kata' attempted to grab the service weapon issued to a Police Special Task Force (STF) Sub-Inspector.
According to Police, on Sunday (September 10) underworld gangster Nadun Chinthaka also known as 'Harak Kata' attempted to snatch the service weapon of the STF officer while he was being questioned by detectives at the Criminal Investigations Department (CID).
Reports said that the Sub-Inspector managed to prevent the attempt and the escape attempt.
According to Police, a police constable who was assigned to the detain of the suspect was reported missing after the incident.
The DIG in-charge of the CID is supervising a team of investigators led by the Director of the Counterterrorism Investigation Division on a special inquiry into the incident, said Sri Lanka Police.
Accordingly, Sri Lanka Police on Monday (September 11) issued a notice seeking public assistance to apprehend the Police Constable who allegedly aided in the failed attempt by notorious criminal figure Nadun Chinthaka Wickramaratne, alias 'Harak Kata', to escape from the custody of the CID.
Further, Sri Lanka Police have released an image of the Constable in question, and have urged the public to contact either the Police Media Division (PMD) on 071 859 1774 or 071 859 4929 with any relevant information.
On Monday (September 11), the Fort Magistrate's Court granted permission to detain and interrogate three underworld gangsters for a further 90-days, under the provisions of the Prevention of Terrorism Act (PTA).
These suspects are Nadun Chinthaka (Harak Kata), Sellaperumage Salindu Madushanka (Kudu Salindu), and T. Amila Fernando.
The trio is facing charges of maintaining contact with international terror groups, and drug traffickers, illegal amassing of weapons, and the delivery of illegal weapons to other persons.
Latest Headlines in Sri Lanka