British Prime Minister Cameron welcomes President Sirisena
Posted by Editor on March 11, 2015 - 8:48 am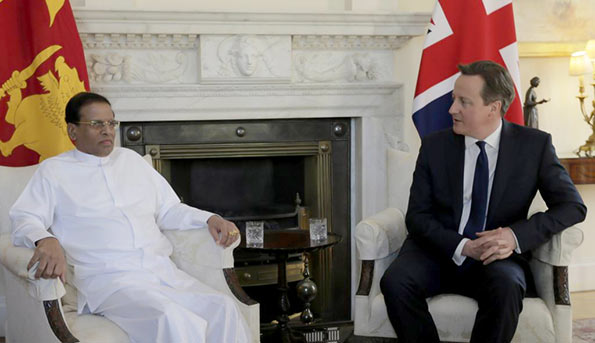 By Janaka Alahapperuma – Pix by: Sudath Silva
British Prime Minister David Cameron welcomed Sri Lanka President Maithripala Sirisena this afternoon (March 10) during his first visit to the UK. The two leaders met each other in front of the famous door of the Prime Minister's official residence at No: 10, Downing Street.
Following the bilateral discussions between the two leaders, a Downing Street spokesman said:
President Sirisena set out the actions his government has already begun to take to reform Sri Lanka in its first two months, including rebuilding confidence in the judicial system by restoring its independence, identifying land to return to the Tamils in the North of the island and replacing military provincial governors with civilian ones. The Prime Minister welcomed these initial steps but underlined that continuing this record of action was essential.
The two leaders also discussed President Sirisena's clear plans to build lasting reconciliation across Sri Lanka, both through supporting the ongoing UN investigation and by establishing an internal mechanism to address issues from Sri Lanka's past. The PM welcomed the steps the President had taken so far and his commitment to helping Sri Lanka to realise its enormous potential. He reiterated that meaningful engagement with the ongoing UN process ahead of its report in September is central to the UK's continued support for Sri Lanka.
The PM also welcomed the growing trade relationship between the UK and Sri Lanka and looked ahead to the visit of the Lord Mayor of London, Boris Johnson with a business delegation in May as an opportunity to grow this further.
Thereafter the Sri Lankan president conducted talks with the All Party Parliamentary Group for Sri Lanka headed by Lord Naseby at the British Parliament.
President Maithripala Sirisena who is currently engaged in an official tour in Britain participated in the Commonwealth Day celebration which was held at the Commonwealth Secretariat yesterday. Her Majesty the Queen Elizabeth and other members of the Royal family including Prince Charles, Prince William and Duchess of Cambridge have attended the event. President Maithripala Sirisena was a special guest at this occasion.
Secretary General of the Commonwealth Kamelesh Sharma and the President designate of the commonwealth in 2015, the head of state of Malta also participated. The Sri Lankan delegation headed by President Maithripala Sirisena and Mrs. Jayanthi Sirisena was warmly welcomed at the Marlborough House, the headquarters of the Commonwealth Secretariat. A special service in connection with the Commonwealth Day celebrations was conducted at the Westminster Abbey church yesterday morning (09). The President and Mrs Sirisena have also attended the service.
Her Majesty will host a special luncheon in honour of the Sri Lankan President at the Buckingham Palace tomorrow.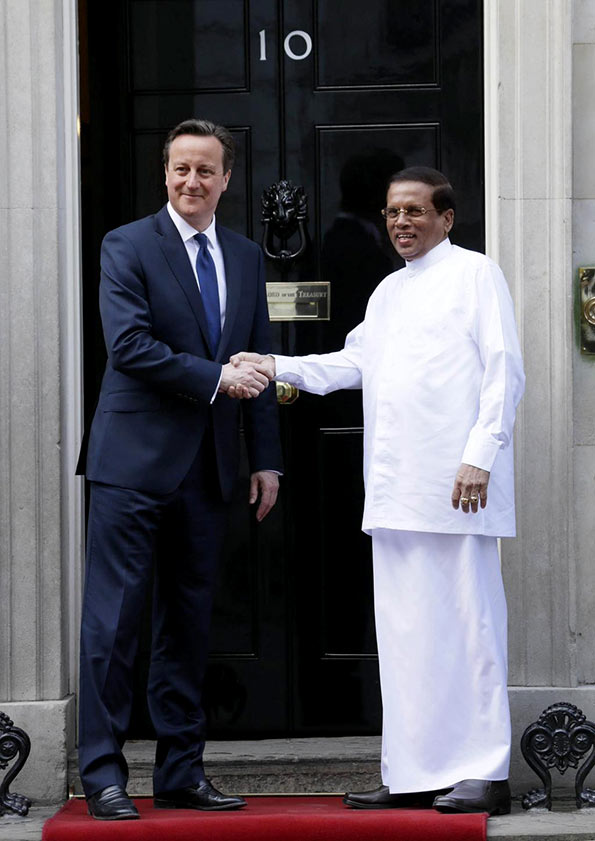 Latest Headlines in Sri Lanka