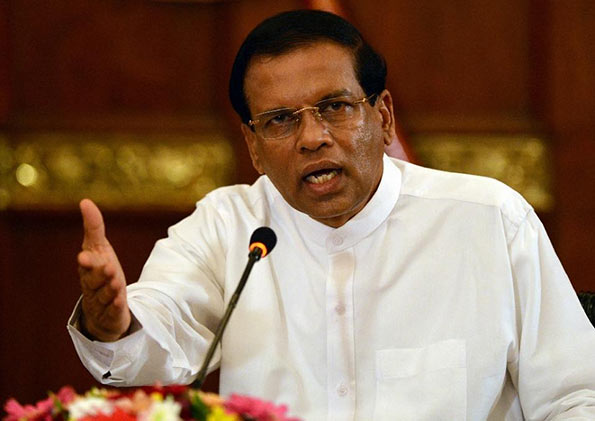 Sri Lankan President Maithripala Sirisena on Tuesday criticized a comeback bid by Mahinda Rajapaksa, the rival he beat in elections last January, and his own allies for backing him to become prime minister.
A coalition led by Sirisena has nominated Rajapaksa to run in elections next month, official documents showed on Monday, and the former wartime leader's allies say he will stand for the post of prime minister.
Rajapaksa's crushing of a 26-year Tamil Tiger insurgency in northern Sri Lanka 2009 won him support among the island's Sinhalese majority, and he still has a strong following.
Sirisena said he decided to allow Rajapaksa to run in the parliamentary poll to prevent a split in the center coalition led by his Sri Lanka Freedom Party (SLFP).
"In the event the SLFP-led coalition comes to the power, there are so many seniors apart from Rajapaksa who could be appointed as the prime minister," Sirisena said.
"I still oppose the nomination … Mahinda Rajapaksa will continue to lose," he said, adding that as president he will be neutral in the campaign and ensure a free and fair election.
Sirisena's statement came a day after Rajapaksa told Reuters that he would lead the campaign, with the president as the chairman of the party, to form a SLFP-led government.
Sirisena came under heavy criticism from supporters for letting Rajapaksa run for office as a coalition candidate.
Some of the president's supporters joined the center United National Party (UNP) led by current Prime Minister Ranil Wickremesinghe.
"Sirisena delivered a timely message and neutralized the campaign of the corrupt Rajapaksa," said Keerthi Tennakoon, the executive director of Campaign for Free and Fair Election. "Now most of Rajapaksa's supporters will try to dissociate from him."
Sirisena, who held several cabinet minister posts during Rajapaksa's 2005-2015 administration, defected last year to run for president and unexpectedly won.
He promised fresh parliamentary elections this year, which will come in August after months of legislative deadlock as his coalition with Wickramesinghe struggled to pass key political reforms.
Rajapaksa and some allies still face a United Nations war crimes investigation. A report on alleged rights abuses in the final phase of the war is due in September.
(Reuters / Pix by AFP)