Sri Lanka ruling party leading in parliament vote
Posted by Editor on April 9, 2010 - 3:32 am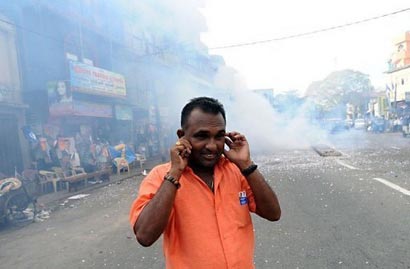 COLOMBO (AFP) – Sri Lanka's ruling party is running well ahead of the fractured opposition, early results showed Friday, in a vote marked by record low turnout and reports of violence and voter intimidation.
President Mahinda Rajapakse's United People's Freedom Alliance was leading in 21 out of 28 polling divisions declared so far following Thursday's parliamentary poll, according to the elections department.
Counting in another 170-plus divisions was continuing Friday and election officials said the ruling party was ahead in most areas, indicating that it could form a government with a comfortable majority.
It was the first parliamentary election since the government defeated Tamil Tiger rebels in May last year, ending a bloody three-decade conflict, and just three months after Rajapakse scored a resounding presidential election victory.
Rajapakse is widely expected to consolidate his power through Thursday's vote for the 225-member parliament, with expectations he is seeking changes to the constitution that could allow him to serve a third term.
"I want a very strong parliament to develop the country," he told reporters as he cast his ballot in a southern constituency where his son Namal was the ruling party candidate.
For many Sri Lankans, it was the first legislative election in which they could vote without fear of Tamil Tiger violence and suicide attacks following the defeat of the rebels, which has boosted Rajapakse's standing.
However, the Centre for Monitoring Election Violence (CMEV) reported 286 incidents of violence on polling day, including a shoot out between a group of opposition and government supporters in the south, but nobody was hurt.
There were also numerous reports of pro-government supporters intimidating voters, said the centre's spokesman D.M. Dissanayake.
A private election monitoring group said the authorities had cancelled the results at two booths because of intimidation and violence, and had scheduled a fresh vote for next week.
Overall turnout was expected to be between 50 and 55 percent of the country's 14 million voters, the lowest ever in a parliamentary poll, after a lacklustre election campaign.
The previous low was 63 percent when Sinhalese militants and Tamil rebels attempted to sabotage the 1989 election by killing dozens of candidates, their supporters and election officials.
While Rajapakse's party should have no trouble securing more than half the 225 seats, Sri Lanka's system of proportional representation makes it unlikely it will secure the two-thirds majority needed to push through constitutional change.
Sethmini Chathurika, 28, said she had voted for Rajapakse's party because it had succeeded in ending the conflict with the Tamil Tigers.
"The president has plans to build the country. I think he deserves a parliament to implement those plans," Chathurika said.
Rajapakse's nationalistic rhetoric appeals to his majority Sinhalese community, but has been criticised by rights groups who accuse him of cronyism and suppressing dissent.
His main election rival, former army chief Sarath Fonseka who led the military campaign that defeated the Tigers, is now in custody and facing court martial.
Opposition parties were largely united behind Fonseka in his campaign for the presidency in January, but they lost cohesion after his arrest and went into the parliamentary election with little hope of victory.
The main opposition United National Party (UNP) had accused the government of using state-owned vehicles and buildings for campaigning and turning the government-run media into a party mouthpiece.
Latest Headlines in Sri Lanka