Sri Lanka sink to their biggest loss
Posted by Editor on January 12, 2012 - 7:15 am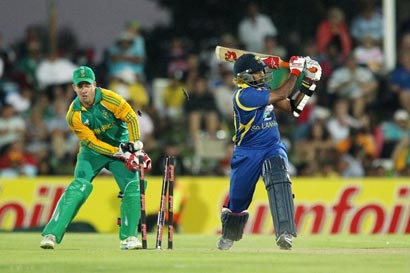 South Africa 301 for 8 (Amla 112, Kallis 72, de Villiers 52, Malinga 5-54) beat Sri Lanka 43 (Morkel 4-10) by 258 runs
South Africa's season of outlandish results produced another jaw-dropper as Sri Lanka subsided to 43 all out, their lowest total in one-dayers. The shorter format was widely expected to make the one-day series a more even contest than the Tests, but Sri Lanka's 258-run defeat in Paarl was the third largest in ODI history, giving AB de Villiers the perfect start to his captaincy.
South Africa's batsmen had earlier enjoyed themselves despite the scorching heat as they ran up 301 after winning the toss. Hashim Amla highlighted why he's the world's top-ranked ODI batsman with his ninth century, and was supported by the two other big guns of the batting – Jacques Kallis provided the early impetus before de Villiers produced the most fluent innings of the match to power South Africa on a pitch where both seam and spin proved elusive in the afternoon.
Lasith Malinga underscored his value to Sri Lanka, with a five-for that reined in South Africa towards the end of the innings, but his sterling efforts proved moot as Sri Lanka lost five wickets in five overs to effectively end the contest.
Two South African bowlers with points to prove were given the new balls and they snuffed out the resistance even before the main man Dale Steyn was called on. Morne Morkel, coming off an indifferent Test summer, started the collapse in the first over as Upul Tharanga attempted a leaden-footed slap which ended as a low catch at backward point. In the next over Lonwabo Tsotsobe, having lost his place as third seamer to Vernon Philander in the Tests, showed how potent he can be by getting the ball to jag in and rear at the batsman. That proved too much for Tillakaratne Dilshan, who also bagged a duck by gloving to the keeper.
The alarm bells were truly ringing when Dinesh Chandimal struggled to get bat on ball, inside-edging an accurate Tsotsobe three times before nicking a loose drive onto the stumps. Morkel then virtually killed off the game in the fifth over: Kumar Sangakkara's attempted upper cut gave de Villiers his second catch, and two balls later Angelo Mathews' awkward fend at a short ball popped to midwicket.
Mahela Jayawardene then made an unforced error in the eighth over, stabbing a wide ball to point as Sri Lanka slid to 13 for 6. The match was long gone, and the immediate concern was over avoiding the ignominy of the lowest score in one-day history.
In that manic Test at Cape Town in November, Australia's last pair had averted the lowest Test total, and this time Sri Lanka's tail did the job. Not that it offered much consolation for Dilshan, who looked shell-shocked in the dressing-room as his team disintegrated. While the pitch certainly provided a bit more help to the bowlers under lights, it was nowhere near as dramatic as the scoreline suggested.
When South Africa batted there had few of the troubles Sri Lanka faced. Malinga extended Graeme Smith's poor run in one-dayers, but till the 40th over, the likeliest cause of a South African wicket was a run-out.
Amla wasn't at his assured best early on, outside-edging a few drives and mistiming some pulls. Kallis, though, batted like a man coming off a double century a week ago, routinely releasing the pressure after Sri Lanka's bowlers put together a few disciplined overs – most strikingly when he thumped Malinga over long-on for an imperious six, ending a run that yielded only 2 runs in 15 deliveries.
Both batsmen used the steer to third man and the clip to square leg efficiently to keep the singles coming. They had sauntered to 69 for 1 in 15 overs before opening up in the bowling Powerplay, off which they took 37 runs. With both batsmen looking good, South Africa opted for the batting Powerplay as early as the 27th over, but the 144-run stand was finally broken as Kallis was run out by a direct hit from Jayawardene at cover.
If there were fears that would slow down South Africa, de Villiers brushed them away as he played another of those innings where he seemed instantly at ease on a track where most others take time to settle down. He had a streak of 19 successive singles with Amla before becoming more enterprising, unleashing a series of boundaries through cover and extra cover to get to his half-century in 36 balls. Amla, meanwhile, calmly moved on to his hundred, celebrating the achievement with a gentle wave of the bat and helmet.
At 241 for 2 after 40 overs, South Africa seemed headed for at least 320. A Kulasekara yorker, though, removed the rampant de Villiers, before Malinga worked his magic to rip through the lower middle order.
The South African batting and Malinga's five-for were both completely overshadowed by what followed, in a one-dayer that is destined to be remembered as the '43 all out' game.
ESPN CricInfo
Latest Headlines in Sri Lanka