Students threaten Warden with death, dons refuse to teach
Posted by Editor on January 12, 2012 - 10:52 am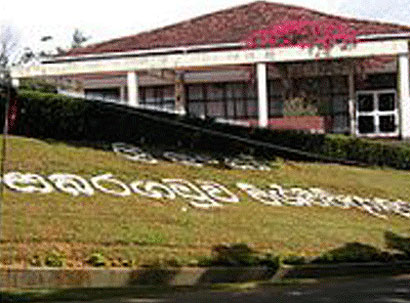 Teachers of the University of Sabaragamuwa have withdrawn from their academic duties demanding that undergraduates who attacked the house of university warden and security personnel during a protest on Tuesday night be arrested.
The Sabaragamuwa University Teachers' Association threatened to strike work unless the attackers are brought to book.
An unidentified group assaulted three students inside the university premises the previous night. Student unions blame the Rakna Lanka security firm affiliated to the Defence Ministry for the attack.
Three students injured in the attack are receiving treatment at the Pambahinna hospital. Following the attack students had a meeting and thereafter some of them stormed the house of the University warden Sanjeewa Prasanna Jayaweera causing damage to it. They threatened to kill him unless the Rakna Lanka security personnel were removed from the university immediately.
President of the Sabaragamuwa University Teachers' Association, Dr A.W. Wijeratne told The Island that he, too, had visited the warden's house under attack. "They attacked the house, while the warden, his wife and child were in. There is a serious threat to the life of the Warden Jayaweera.
We condemn this attack and will not attend lectures until legal action is taken against those who are responsible," he said.
Soon after the attack on the warden's house, the undergraduates surrounded the security office near the main entrance and chased the security personnel out. Sources said until 2. 00 am yesterday the university was in chaos.
The police were called in to protect the university.
Warden Jayaweera said that he had identified the attackers.
Vice Chancellor of the University Prof Mahinda S Rupasinghe said that police investigations were being conducted.
Courtesy: The Island
Latest Headlines in Sri Lanka