Sri Lanka struggles to adapt as disasters become a new "normal"
Posted by Editor on July 19, 2017 - 10:22 am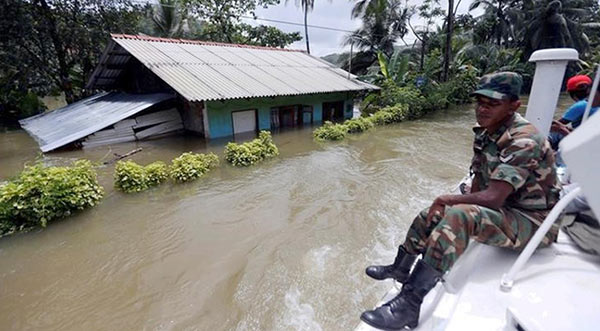 During Sri Lanka's May floods, rescue crews in Kiriella, a small town in Rathnapura District, spotted a remarkable sight.
A middle-aged woman, trudging through waist-deep floodwater, clutched a rooster carefully above the torrent, while a small girl struggled to hold onto the woman's waist, at times barely able to keep her head above water.
"Not just the public, but even policy makers are the same: They look at natural disasters as isolated events and the main aim is to save movable and immovable property, not lives," charged Ranjith Punyawardena, the head of climatology in the agricultural department of Sri Lanka's University of Peradeniya.
Disasters – from deadly floods to worsening droughts – are happening more frequently in Sri Lanka. But efforts to begin treating the crises as a new "normal" – which requires fundamental changes to how the country's systems work, rather than one-time responses – is struggling, some officials say.
In May, floods and landslides killed 216 people, left 76 missing and affected over 600,000 – just a year after similar floods killed more than 100 people.
A 10- month drought, meanwhile, is lingering in the northern part of the island – despite some recent rain – and is likely to result in the 2017 rice harvest being the lowest in a decade, according to the U.N. Food and Agriculture Organization.
One of the main problems, Punyawardena said, is the difficulty of sustaining changes put in place in the wake of disasters.
Real Change?
In each of the last three years floods have killed at least a hundred people in Sri Lanka, and in each case disaster officials have initiated inquiries afterward to identify what went wrong, Punyawardena said.
After this year's flooding, Sri Lanka's Disaster Management Centre and Department of Meteorology were widely criticized for failing to provide sufficient early warnings of the approaching floods. Officials at the Department of Meteorology said a lack of sophisticated radar technology prevented it from issuing detailed-enough warnings.
The disaster center has since revamped its procedures for issuing early warnings and the government has signed a $ 22 million agreement with Japan to set up new weather radar stations.
The government also has said it will set up 100 disaster evacuation centers across the island nation.
But Punyawardena said it remained to be seen whether such action would cut the death toll from floods in coming years.
"Hopefully these new changes will not end like sudden bursts. We need sustained emphasis. The policies have been there in the past as well. It is the implementation that has been lacking," he said.
The problem, said Punyawardena and Sarath Premalal, director general of the Department of Meteorology, is that disasters usually lead to a flurry of government activity that then peters out as the disaster situation eases. The cycle then begins again with the next disaster, they said.
"The policies are clearly there in documents and plans. I don't think we need newer ones. What we need is to properly implement these for the long haul," Punyawardena said.
Disaster officials say one big problem for them is lack of access to top-level decision makers as they try to bring change. Normally such access comes only during major disasters, Premalal said.
"We need support at the very top level to make sure we are prepared. Sometimes it is very difficult to gain access to decision makers. That slows down a lot of the work," he said.
Working Together
Lack of coordination can also be a problem. During May's floods, for instance, both the country's president and its prime minister chaired separate committees aimed at addressing the disaster, leading to confusion in the early stages of the crisis, according to Disaster Management Centre officials and officials of United Nations relief organizations.
Getting officials from across agencies – such as agriculture, water, disaster and meteorology – together to coordinate plans also is a challenge, Premalal said.
"We tend to still work in silos. There is a need for practical, real-time data and information sharing," he said.
Since 2010, government agencies have come together to hold a pre-monsoon meeting each March to share and discuss information on expected rainfall. The problem is that very little activity then takes place to head off problems that might be anticipated from the data, said the head of the meteorological department.
For example, data provided by the Department of Meteorology before the May floods suggested very heavy rainfall was possible, and should have led to the country's Department of Irrigation running computer models on what flooding might be expected, Punyawardena said.
Currently the irrigation department relies primarily on water gauges in rivers to assess water levels and determine when flood alerts should be issued, he said.
M. Thuraisingham, director general of the irrigation department, said that his team did not have the technical capacity or human resources to accurately run computer models of possible flooding.
Anura Priyadarshana Yapa, Sri Lanka's minister of disaster management, said efforts to better spur and coordinate action are underway, however.
"At ministry level we are now having regular meetings with all connected departments and if the need arises we will seek (a) meeting with the President," he said.
He noted that the government had also renewed its pioneering national natural disaster insurance policy, which last year earned the country a $2 million payout amid floods just six weeks after being purchased.
The country also is seeking help to improve its weather radar network, he said.
(Reuters)
Latest Headlines in Sri Lanka