Sri Lanka too strong for listless India
Posted by Editor on February 21, 2012 - 8:44 pm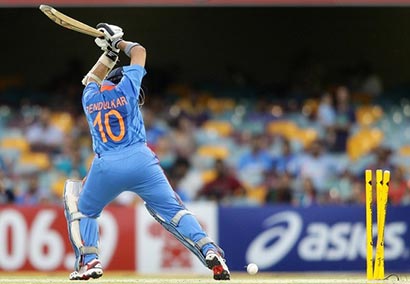 Sri Lanka 289 for 6 (Thirimanne 62, Dilshan 51, Mathews 49*) beat India 238 (Kohli 66, Irfan 47, Kulasekara 3-40) by 51 runs
India abandoned their rotation policy and played all three senior batsmen. They also brought in a spinner in place of a fast bowler. They still leaked runs at the death. Their heavyweight top order still caved in cheaply.
Sri Lanka were on a different plane. Their old guard provided the base and the new order built on it to boost them to a substantial total. Their disciplined bowlers, led by Nuwan Kulasekara, dismantled a shaky India line-up, minus the in-form MS Dhoni, to take Sri Lanka into second position behind Australia with a game in hand. Parthiv Patel, Dhoni's replacement, lasted seven deliveries and made 4.
Faced with a stiff chase, Virender Sehwag threw away his wicket yet again, Sachin Tendulkar wasted another start and Gautam Gambhir guided one straight to gully.
Sehwag had missed the previous two games and was stand-in captain today but that did not bring about any change in his approach. He went after the second delivery of the chase, a short and wide one from Lasith Malinga, reaching out to slice it tamely to third man.
Tendulkar and Gambhir played some pleasing strokes but Kulasekara snapped up both batsmen, a reward for disciplined line and full lengths. He kept Tendulkar guessing with a few that came in and some that moved away. The batsman was a little late in deciding to leave a good length delivery and edged it onto his stumps.
With two 90s as an opener in his previous three games, Gambhir dropped down to No. 3 to allow Sehwag and Tendulkar to open. He lasted longer than the two but ended up dabbing Kulasekara to gully after walking down the pitch.
Virat Kohli and Suresh Raina struggled initially but benefited from three dropped catches to keep India in the game with a 92-run partnership. Raina's leading edge off Angelo Mathews was put down at point by Tillakaratne Dilshan. He was on 4 at the time. Kolhi was let off twice, both times by Dinesh Chandimal at deep midwicket, first on 14 off Thisara Perera, then on 32 off Malinga.
Raina could not capitalise, though, and, on 32, popped another leading edge, off Farveez Maharoof this time, straight to cover. Kohli carried on for a while longer but he was always battling against the climbing asking-rate and the thin batting. After having taken six runs off the first two balls of a Perera over, Kohli, on 66, looked to smash the third one and ended up slogging it to mid-on. Kohli's departure left India 172 for 5, and with no chance against an asking-rate of over eight an over.
Irfan Pathan cracked a few boundaries to reduce the margin of defeat and deny Sri Lanka the bonus point, but the match had been decided much earlier, with Sri Lanka in control right from their opening partnership.
Mahela Jayawardene started the innings again, and gave Sri Lanka another strong start along with Tillakaratne Dilshan. Lahiru Thirimanne led the young middle order's charge as Sri Lanka shrugged off the successive departures of their three senior batsmen in the middle overs.
India's bowling followed a characteristic route, the spinners bringing them back in the middle of the innings before the fast bowlers and part-timers leaked runs at the death. Sri Lanka took 81 off the last eight overs, including 24 off two from Vinay Kumar, and 24 off two from Kohli and Raina.
Thirimanne kept the runs coming with some enterprising strokes to ensure 124 for 3 did not turn into something worse. Mathews, who backs himself to score from any position and in any situation, smashed 49 off 37 deliveries at No. 6 as India's bowling came apart.
With Vinay and Umesh Yadav each having two overs left, Sehwag showed scant confidence in his quicks and turned to the part-time bowling of Raina and Kohli for the 49th and 50th overs respectively. The result was the same, as Mathews plundered more runs.
Sri Lanka's final score was a reflection of the kind of start that their former captain and his replacement had given them. Jayawardene and Dilshan batted with assurance for 95 runs at over five an over and India did not look like making a breakthrough till Sehwag pulled off a stunning catch to send back Jayawardene. Dilshan punished the slightest width outside the off stump for boundaries.
India sneaked back through a double-strike. On 45, Jayawardene swung Pathan hard into the on side, but Sehwag got in the way with a big dive at midwicket, and held on to a sharp catch. Dilshan fell for 51 on the cut when R Ashwin got one to bounce.
Kumar Sangakkara came in and swung Yadav straight to fine leg, and at 124 for 3 Sri Lanka were in danger of frittering away an excellent start. Thirimanne and Dinesh Chandimal did not allow that to happen with a 71-run stand that came at a run-a-ball.
Thirimanne did not hold back with the big strokes. He favoured the off side, mostly point and third man, as he steered and dabbed for boundaries. Irfan ended Chandimal's stay with a yorker on leg stump but India ran into Mathews next. The scoring-rate picked up, as the pair added 49 in seven overs.
Thirimanne's batting was classy but the same could not be said about his backing up. Despite the changed law on run-outs while backing up, he repeatedly left his crease even before the bowlers were into their delivery stride. Ashwin was well within his rights to remove the bails in the 40th over as Thirimanne went walking early again, but India decided to withdraw the appeal in good spirit after a discussion with the umpires. It made no difference to Thirimanne, though, as he continued to take an early start at the non-striker's end.
He eventually fell chipping Ashwin to sweeper cover but Mathews was around to lift Sri Lanka to a big total, which proved to be well beyond India's reach.
Source: ESPN CricInfo / Pix by Getty Images

Latest Headlines in Sri Lanka