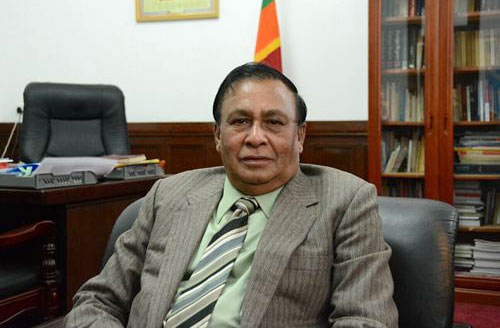 Sri Lankan Ambassador to China Karunasena Kodituwakku on Wednesday strongly pushed back recent media reports criticizing Chinese investments in his country, saying that Sri Lanka was not forced to accept investments and loans from China and wants to continue cooperation with China under the Belt and Road (B&R) initiative.
Chinese investments in Sri Lanka have come under increased criticism, mostly from Western media and officials, who have accused China of using a debt trap to gain control of strategic commercial routes, after a Chinese company's acquisition of stakes in a strategic port.
But the Sri Lankan ambassador painted a vastly different picture.
"What I want to highlight here is that Sri Lanka asked for this project loan on our own. We were not forced to get this loan," Kodituwakku told the Global Times in an interview in Beijing. "In the case of Chinese finance for Hambantota, that came to Sri Lanka at the request of Sri Lanka."
Due to unsatisfactory performance at the port, China Merchants Port Holdings and the Sri Lanka Ports Authority last year inked a deal to transfer a 70 percent stake in two joint ventures (JVs) that would manage the port.
Under the agreement, which is valid for 99 years, the Sri Lanka Ports Authority will, starting after 10 years, gradually purchase stakes in the JVs to reach a 50-50 equal stake, according to the Xinhua News Agency.
Hyping the news, some Western media organizations and officials have accused China of exerting an influence in countries along the B&R initiative through what they describe as debt traps.
But Kodituwakku on Wednesday called such accusations unfounded. "It is very unfair to blame China or [the Export-Import Bank of China] or the firms that constructed the Hambantota port," he said. "It is a decision taken by the government of Sri Lanka… if something was wrong in the decision, we are responsible."
In the interview, Kodituwakku also stressed that Sri Lanka is seeking more Chinese involvement in economic development in his country, from industrial bases to export capacity building.
"We need more and more shipments and investment in the port and at the same time we would like to build a good industrial base in the surrounding area," the ambassador said. "Therefore, we would like to ask the Chinese business community to come to Sri Lanka and to invest in surrounding areas to build an industrial base."
While Sri Lanka wants to further strengthen its diplomatic and economic ties with China, the country is also open to cooperation with other countries such as neighboring India and the US, which has increasingly shifted its strategic focus to the Indo-Pacific region, the envoy said.
(Source: Global Times)