Sri Lanka win series amid controversial run out
Posted by Editor on June 4, 2014 - 8:05 am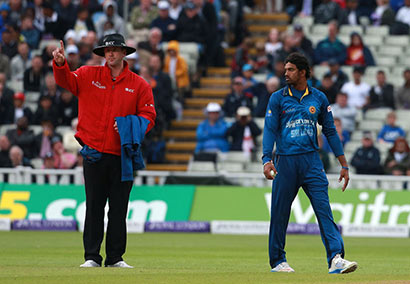 Sri Lanka won the final one-day international in Birmingham by six wickets on Tuesday, a game that will be remembered for the controversial run-out of England's Jos Buttler, to triumph 3-2 in the five-match series.
After winning the toss England laboured to 199 for six but had the dangerous Buttler, who made a brilliant 121 in the fourth game at Lord's on Saturday, at the crease on 21.
The wicketkeeper-batsman was then dismissed at the non-striker's end by Sachithra Senanayake who took the bails off when Buttler strayed out of his crease as the off-spinner was about to deliver the ball.
Buttler had already received several warnings in this game, and at Lord's, for backing up too far but umpire Michael Gough asked Sri Lanka captain Angelo Mathews if he was sure that he wanted Senanayake's appeal to stand.
Mathews replied in the affirmative and the batsman had to make his way back to the pavilion.
The run out had added significance with Senanayake the subject of an International Cricket Council (ICC) investigation for a suspicious bowling action.
When the teams shook hands after Tuesday's game at Edgbaston, clearly disgruntled England skipper Alastair Cook exchanged words with Mathews.
"He has been taking unfair starts, not just in this game but in the last game as well," the Sri Lanka captain told Sky Sports after his side reached their target of 220 with 10 balls to spare.
"We gave him two warnings in the spirit of cricket. I actually don't know how to stop a batsman doing that continuously so we had to go for it. I would stick by [the decision] because what we did was completely within the rules."
UNHAPPY ENGLAND
Cook said he was "obviously disappointed" with the Sri Lanka appeal.
"You're going to have to ask Angelo why he did it," added Cook. "I hope I wouldn't do it.
"Emotion can get the better of you. You hope you wouldn't do it but until you're put in that situation you don't know how you'd handle it."
England coach Peter Moores was also "disappointed" with the Sri Lanka appeal.
"Angelo made his decision and it's not for me to comment on why he did it," said Moores. "He's made his choice and obviously he's happy with it because that's what he said at the end of the game.
"We would discuss it with Alastair [in a similar scenario).
That's Angelo's choice and that's what he thought was the right decision at the time. I might disagree but it's not my decision, it's his."
Led by an opening stand of 76 between Cook (56) and Ian Bell (37), England were bowled out for 219 after electing to bat first.
Paceman Lasith Malinga was, as usual, the most dangerous Sri Lankan bowler as he finished with three for 50 from 9.1 overs.
The tourists began their reply in explosive fashion with Tillakaratne Dilshan and Kusul Perera bludgeoning 49 runs from six overs.
England took three quick wickets to reduce Sri Lanka to 62 for three before Mahela Jayawardene (53) and Lahiru Thirimanne (60 not out) shared a stand of 98 for the fourth wicket to set up the victory charge.
Mathews (42 not out) struck the winning runs before raising his bat to the visiting dressing room and pointing to his straightened arm in probable support of Senanayake's action.
The 29-year-old spinner must undergo ICC testing but can continue playing until the results are likely to be known ahead of the first test at Lord's on June 12.
(Reuters)
Latest Headlines in Sri Lanka