Sri Lankan activist Ariyaratne presented Basavashree Award
Posted by Editor on August 16, 2011 - 7:24 am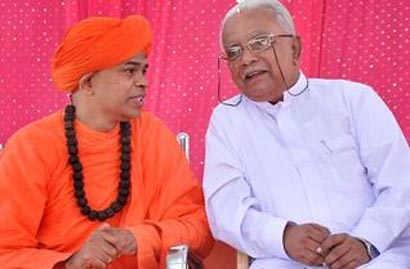 Shivamurthy Murughaswamy of Murugharajendra Math conferred the prestigious Basavashree Award on A.T. Ariyaratne, social activist and Gandhian from Sri Lanka, here on Monday.
The award instituted by the math was presented to Dr. Ariyaratne in recognition of his contribution to eradicate poverty in Sri Lanka though a foundation called the Sarvodaya Shramadana Movement.
In his acceptance speech, Dr. Ariyaratne said that to build a better society and for peaceful coexistence, it is imperative that people are ready to face any consequences while eradicating corruption, and disarming the people who have taken up arms. He added that peaceful coexistence was one of the basic principles of Buddhism that was being followed by 75 per cent of the people in Sri Lanka.
Dr. Ariyaratne claimed that the Sarvodaya Shramadana Movement believes in Mahatma Gandhi's concept of Gram Swaraj (village governance). He said that the Sarvodaya Shramadana Movement had successfully implemented the concept in over 32,000 villages of Sri Lanka for the economic stability of the rural areas.
"While implementing the Gram Swaraj concept, we never expected any political or bureaucratic support. Only public participation has made it possible for us to implement the concept", he added.
Dr. Ariyaratne said the challenge for implementing the Gram Swaraj was gigantic before the foundation especially during the ethnic war and bloodshed that Sri Lanka witnessed for decades.
Dr. Ariyaratne regretted that rampant exploitation of natural resources was causing irreversible harm to the environment.
"With increase in pollution and ecological imbalance, we must ponder as to what we are giving to our next generation", he said, adding that it was all the more necessary now to protect the environment. Dr. Ariyaratne thanked the math authorities for honouring him with the award, and said he felt encouraged by the recognition and that he would continue to work for society. The former President A.P.J. Abdul Kalam and Janardhana Swamy, MP, were present.
Source: The Hindu
Latest Headlines in Sri Lanka