Sri Lankan gem dealer faces huge loss after HK$6m robbery in Hong Kong
Posted by Editor on June 16, 2016 - 9:00 am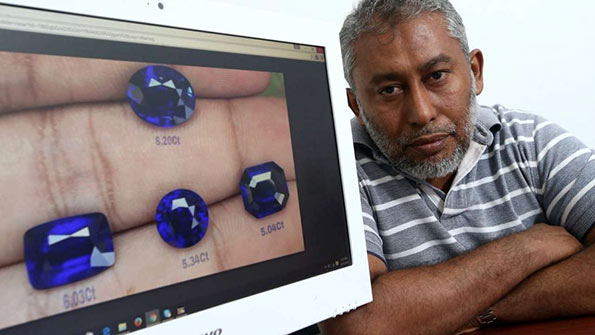 A Sri Lankan precious gems dealer is staring at financial ruin after his HK$6 million haul of uninsured precious sapphires and rubies was snatched in a daylight robbery in Tsim Sha Tsui, South China Morning Post reported.
As the police investigate the theft, trader Mohamed Azan Mohideen Abdul Cader,44, pleaded for the safe return of the gems and urged local jewellery traders to watch out for anyone trying to sell the stolen goods.
"It will cripple our business completely. We have lost almost everything," said Abdul Cader, who hails from the Sri Lankan town of Beruwela, a major hub for the gem trade.
Some 750 stones were stolen but among them were several high-value items, including: an 8.05 carat ruby worth US$200,000, a 32.91 carat padparadscha pink sapphire stone valued at US$60,000 and a 14.36 carat purple pink sapphire worth the same amount.
Investigators are looking for two people in connection with the theft. They are both males. One is aged between 40 and 50 and is 1.7m in height and of fat build. Another is about 30-40, 1.8m tall and of slim build. No arrests have been made.
The victim was returning from a gem trade show in Las Vegas. He arrived last Sunday morning from Los Angeles. He had been scheduled to stay in the city for 14 hours before flying on to Colombo in Sri Lanka. The theft forced him to stay on in Hong Kong.
Before meeting a friend, he stopped off at the iSquare shopping mall in Tsim Sha Tsui where the theft took place late on Sunday morning.
Abdul Cader said the police thought he was followed into the mall. Officers are exploring whether the crime was gang-related and a professional attempt at stealing the contents of the bag.
(SCMP)
Latest Headlines in Sri Lanka