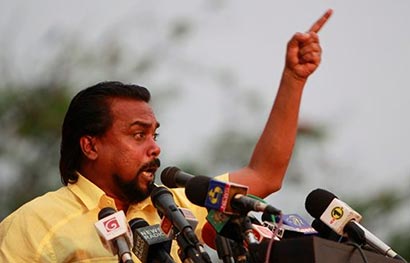 COLOMBO, Sept. 25 (Xinhua) — Following strong protests by Sri Lankan Muslims, a Cabinet Minister here on Tuesday called for the controversial anti-Islam film to be banned in the country.
Housing and Construction Minister Wimal Weerawansa, who is also the leader of the hardline nationalist National Freedom Front (NFF) party aligned with the government, told media that access to the film "Innocence of Muslims" should be banned for locals.
He called on Google to censor its availability so that it could not be accessed by the Sri Lankan public.
"This movie is a gross violation of ethics. U.S. authorities should work to remove the movie from the internet," he said.
Weerawansa's comments come amid increasing protests from Sri Lanka's Muslim population to have the movie removed from the internet.
Sri Lanka's Religious Affairs Deputy Minister M.K.D.S Gunawardena told Xinhua that steps would be taken to ban the movie locally, which includes newspaper notices warning people to abstain from watching it.
On Monday, thousands of Muslims marched to the U.S. embassy here in protest of the film. It was the third demonstration in less than a week.
The string of protests began last Wednesday and has since seen an increase in the number of participants.
After the first protest, the embassy released a media statement insisting that "the United States strongly rejects both its (the film's) contents and messages, and had nothing to do with the video."