Sri Lankan President committed to solve national problems; Indian Minister SM Krishna
Posted by Editor on January 17, 2012 - 7:36 pm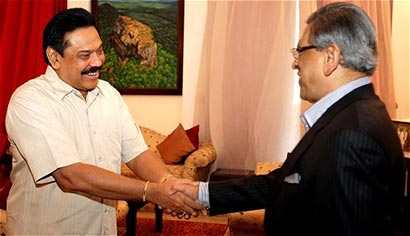 Indian External Affairs Minister S.M. Krishna who is currently on a four day official visit in Sri Lanka said that it was heartening to hear from  the Sri Lankan President  that he was  committed to solve the Sri Lanka's national problem based on  the 13th  Amendment plus approach.
India's External Affairs Minister S.M.Krishna today, the second day of his visit to the island nation, before addressing a press conference with the Sri Lankan External Affairs Minister GL Peiris in Colombo held a meeting with Sri Lankan President Mahinda Rajapaksa.
"It was heartening to hear the Sri Lankan President's commitment on the 13th Amendment" said Mr Krishna adding that it was not desirable for him to suggest any time frame to find a lasting solution. He said time and again Sri Lanka had assured India of its intent to implement the 13 Amendment for a meaningful devolution package for the ethnic minority.
Krishna said that in the quest of a genuine political settlement, India would help Sri Lanka in whatever way it could in the spirit of partnership and cooperation.
He also noted that some of the recommendations by the Lessons Learnt and Reconciliation Commission (LLRC), if implemented will mark a step forward in genuine national reconciliation.
Krishna praised the Sri Lankan President for gracious invitation extended for him to participate in the Thaipongal celebrations organized by the President's office.
"When I came  to Colombo, I had a gracious invitation from the President and the first lady of Sri Lanka to participate in the Thai Pongal celebration that the President was holding. It is indeed a gracious invitation. I must acknowledge the attitude, the gesture the Lankan President showed towards me. It was to take place in the morning.
But when the President came to know that I will be arriving in Colombo in the afternoon he was gracious enough to have it shifted to the evening" Mr. Krishna said.
That is the kind of relationship we have. Protocol takes the back seat and good will affection takes the first seat. I think it is indeed a wonderful gesture which I will have to recall to my countrymen and policy makers in India
Krishna said the talks between Tamil National Alliance (TNA) and the government would pave way to find genuine solution. "We want the talks with TNA to be a success" he expressed with hope.
To a question raised by a journalist, Sri Lankan Minister of External Affairs Prof Pieris said that the Government of Sri Lanka wants the TNA to participate in the Parliamentary Select Committee for it to be constituted and it is then only the talks can move forward towards a political solution.
India and Sri Lanka also signed five MoUs covering areas of agriculture, telecom, construction of 49,000 housing units, and Indian line of credit facility for the reconstruction of the Northern railways lines in Sri Lanka and Dambulla water project costing US Dollars 60.69 million
Source: Government News Portal
Latest Headlines in Sri Lanka