Sri Lankan President to address Oxford Union tomorrow; The only Head of State to address the Oxford Union second time
Posted by Editor on December 1, 2010 - 1:50 pm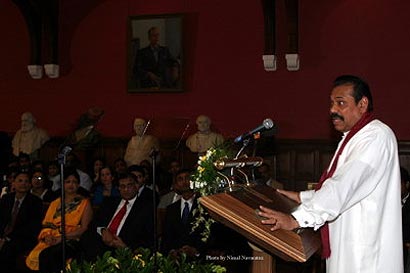 Sri Lankan President Rajapaksa who is in London now is due to address the Oxford Union for a second time Thursday.
Sri Lanka's renowned politicians and statesmen such as former Prime Minister S.W.R.D. Bandaranaike, former President Chandrika Bandaranaike Kumaratunga, former Foreign Minister Lakshman Kadirgamar, late Minister Lalith Athulathmudali and President Mahinda Rajapaksa, have previously addressed the Oxford Union.
Late Minister Lalith Athulathmudali was the first Sri Lankan to be elected as the President of the Oxford Union in 1958.
Former Prime Minister S.W.R.D. Bandaranaike was the Secretary of the Oxford Union in 1923 and former Foreign Minister Lakshman Kadirgamar was also elected to serve as President of the Oxford Union in 1959. Former President Chandrika Bandaranaike Kumaratunga too was among the distinguished Sri Lankans who addressed the Oxford Union.
In 2008 President Mahinda Rajapaksa addressed the Oxford Union at the invitation of the Oxford Union and the Sri Lanka Society of Oxford University. The topic of his address was "Strategy towards Empowering the Rural Economy of Sri Lanka".
President Rajapaksa was the first Head of State of Sri Lanka and the first Sri Lankan statesman who has not previously a member or held office in the Oxford Union to address it as a guest speaker. President Rajapaksa is also the only Head of State to be invited to address the Oxford Union for the second time.
As the oldest university in the English-speaking world, Oxford of UK is a unique and historic institution. There is no clear date of foundation, but teaching existed at Oxford in some form in 1096 and developed rapidly from 1167. During the 20th and early 21st centuries, Oxford added to its humanistic core a major new research capacity in the natural and applied sciences, including medicine. In so doing, it has enhanced and strengthened its traditional role as an international focus for learning and a forum for intellectual debate.
Oxford Union
The Oxford Union is the world's most prestigious debating society, with an unparalleled reputation for bringing international guests and speakers to Oxford. It has been established for 186 years, aiming to promote debate and discussion not only in Oxford University, but across the globe.
The Union is steeped in history. It was founded in 1823 as a forum for discussion and debate, at a time when the free exchange of ideas was a notion foreign to the restrictive University authorities. It soon became the only place for students to discuss political topics whilst at Oxford. W.E. Gladstone, later to become one of the greatest British Prime Minsiters, was one of the leading figures of the Union's early years. Gladstone was President of the Union in 1830, shortly before entering the House of Commons. Many others have followed him into politics, and the Union can boast dozens of former members who have been active in its affairs whilst at Oxford and then gone to become both nationally and internationally prominent figures.
Unlike other student unions, the Oxford Union holds no political views. Instead, the Union is a forum for debate and the discussion of controversial issues. For example; in the 1960s, Malcolm X came to the Union and demanded black empowerment "by any means necessary". In the 1970s, Richard Nixon made his first public speech after Watergate. In the 1980s, Gerry Adams, still under his television ban, addressed the Union's members. In Michaelmas 1996, O. J. Simpson made his only public speech in Britain after the controversial "not guilty" verdict in his criminal trial. The Oxford Union believes first and foremost in freedom of speech.
The Oxford Union has been at the centre of controversial debate throughout its history. As the most prominent debating platform outside Westminster it is no surprise debates have been unrivalled in their quality and impact. One of the most famous motions, "This House will under no circumstances fight for King and Country", was passed in 1933 by 275 votes to 153. The result sparked off a national outcry in the press, and Winston Churchill denounced it as "that abject, squalid, shameless avowal" and "this ever shameful motion"; some say that the result encouraged Hitler in his decision to invade Europe.
The Oxford Union has a long history of hosting international figures and celebrities. Previous guests have included, Winston Churchill, Mother Teresa, former US Presidents Richard Nixon, Jimmy Carter and Ronald Reagan, US diplomat Henry Kissinger, former US Presidential nominee Senator John McCain, former Pakistani President Pervez Musharraf, former New Zealand Prime Minister David Lange, Russian politician and former finance minister Grigory Yavlinsky, notable barrister and prime-ministerial spouse Cherie Booth QC, Sinn Féin leader Gerry Adams, former US Attorney General and Senator Robert Kennedy and scientist Albert Einstein.
Government News Portal
Latest Headlines in Sri Lanka