War crimes lawyers seek arrest of Sri Lankan president in Oxford
Posted by Editor on December 1, 2010 - 9:04 am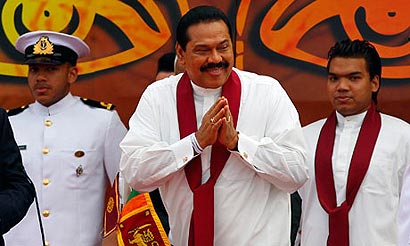 News Source: Guardian UK
Lawyers working for Tamil activists are attempting to obtain a war crimes arrest warrant against Sri Lanka's president and senior member of his entourage who have arrived in Britain.
Mahinda Rajapaksa, whose government defeated the separatist Tamil Tigers last year amid humanitarian protests about the treatment of civilians trapped in the war zone, is due to speak at the Oxford Union on Thursday.
The visit comes as Tamil supporters claim to have acquired a video showing a former Tamil Tiger colonel being interrogated by Sri Lankan forces. His family allege he was killed after surrendering.
Rajapaksa is also expected to meet the defence secretary, Liam Fox. Last year the UK revoked a number of arms exports licences to Sri Lanka in response to the conflict.
The Sri Lankan head of state's visit, postponed from last month, is likely to trigger mass protests. Tamil demonstrators were at Heathrow airport for his arrival on Monday evening; more are expected in Oxford later this week.
Last year thousands of Tamils blockaded Parliament Square in Westminster for several weeks to draw attention to the fighting in Sri Lanka. The freezing weather may reduce the numbers involved this time. There are estimated to be as many as 300,000 people of Tamil descent in the UK.
Sen Kandiah, founder of the British Tamil Forum, an umbrella group representing Tamils in the UK, told the Guardian: "We have been working on an arrest warrant for some time. We have instructed a prominent legal firm and have spoken to former lord chancellors.
"We know that at least 40,000 civilians were killed at the end of the war. This man was the commander in chief and he's coming to speak to the Oxford Union. He should face a proper trial."
Another Tamil activist, Suren Surendiran, said that if Rajapaksa had immunity as head of state then arrest warrants would be sought against military members of his entourage. Graham Williamson of the civil rights group Act Now has called for a boycott campaign of Sri Lankan goods.
The UK accepts universal jurisdiction for war crimes offences, meaning that those accused of atrocities can be arrested in Britain wherever the offence was allegedly committed. But the justice secretary, Ken Clarke, announced in the summer that the legislation would be amended so that any prosecutions would require the assent of the director of public prosecutions.
That would effectively stop the private actions brought against visiting foreign officials that have deterred visits by Israeli officials. A similar tactic was used when Margaret Thatcher was prime minister against the former Chilean president, General Augusto Pinochet. He was arrested and held under house arrest on charges of crimes against humanity, before being released on health grounds without being charged.
Last month David Cameron endorsed calls for an independent investigation into the end of the Sri Lankan civil war in 2009. He told the Commons: "Everyone has read the papers and seen the TV footage, but we need an independent investigation" to work out whether there had been human rights abuses.
A spokesman for the public relations firm Bell Pottinger, which represents Rajapaksa, denied that he had cancelled his trip to the UK last month becuse of fears that he might face an arrest warrant.
"He had to give a keynote speech at the UN," the spokesman said, "and visit Shanghai. He had a busy international schedule. He's here now to speak to the Oxford Union."
Rajapaksa last spoke at the Oxford Union in 2008. His second visit tomorrow, according to his spokesperson, will mean that he is the first serving head of state to address the union twice.
The UN secretary general, Ban Ki-moon, has established a three-man committee to investigate ways of dealing with the war crime allegations.
A spokesman for Fox said: "Dr Fox will be meeting President Rajapaksa in a private capacity. This reflects Dr Fox's longstanding interest in Sri Lanka and his interest in, and commitment to peace and reconciliation there."
Latest Headlines in Sri Lanka