Sri Lankans should be able to work and live anywhere – Defence Secretary.
Posted by Editor on May 29, 2012 - 12:55 pm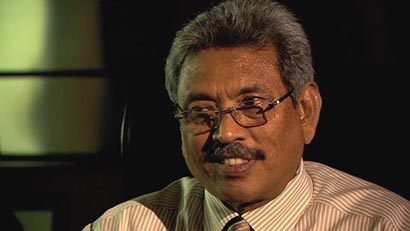 Defence Secretary Mr. Gotabhaya Rajapaksa in an interview with the BBC has said it is not appropriate to view the Northern part of Sri Lanka, over which a separatist war was fought, as a predominantly Tamil area.
Commenting on a question raised by the BBC about transfer of some of the high ranking government officials in the North recently, Mr. Rajapaksa has explained that earlier before the war, all officials in the North were Sinhalese, and a lot of Tamil officers worked in southern districts.  He has emphasized that Sinhalese and Muslims should be able to work in the north, as it is part of Sri Lanka."Explaining further the Defence Secretary has said that if you are a Sri Lankan citizen you must be able to go and buy the properties from anywhere. He has said that Sri Lankans should have the freedom to live anywhere in the country.
Responding to another BBC query about the recent government census which shows that some 7,400 northern Sri Lankans were killed during the last months of the war as a result of the fighting, Mr Rajapaksa has said that only a few of these were civilians and most were Tamil Tiger fighters. He has emphasized that it was not a battle between the Sri Lankan army and civilians, but it was a battle between the army and the terrorist group which were equally armed like the military. He has explained that six thousand army soldiers had been killed in this period.
Mr. Rajapaksa has said that the census-takers had visited family after family and taken the names of all those who died. There might have been "certain" civilian casualties but "not in the numbers the anti-Sri Lankan elements quote.  He has said that the army had defeated a terrorist group that killed innocent people, destroyed property, buses, trains, hotels and many other targets.  He has pointed that all this have been stopped but the international groups don't talk about that, and they are supporting the terrorist cause. (niz)
Source: Government News Portal
Latest Headlines in Sri Lanka