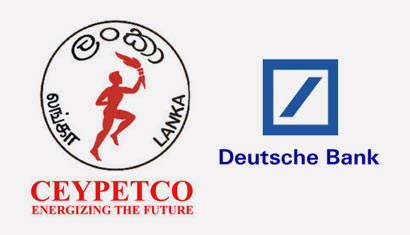 COLOMBO, Nov 13 (Reuters) – Sri Lanka's state-run oil firm Ceylon Petroleum Corporation (CPC) said on Tuesday that a $60 million arbitration award to Deutsche Bank (Xetra: 514000 – news) early this month was against the island nation's government and not against the firm.
"It is against the government and not against us," Susantha Silva, CPC's managing director told Reuters.
On Nov. 2, officials said the state-run oil company had lost a $60 million hedging case against Deutsche Bank after a U.S.-based arbitrator ruled in favour of the bank.
In a separate statement, Silva said the CPC "wishes to categorically state that the Deutsche Bank has not obtained any arbitral award against the CPC in relation to any hedging agreement."
A Deutsche bank official in Colombo confirmed that the arbitration was against the government and not against the state-run oil firm, which refused to make hedging payments of more than $460 million to five banks including Standard Chartered, Citigroup (NYSEArca: BUW – news) and Deutsche.
Deutsche had asked the Washington-based International Centre for Settlement of Investment Disputes to arbitrate.
Ceypetco, which imported some 26 million barrels at a cost of $2 billion in 2007, needed to hedge its purchases of crude oil and refined products on the international market.
It was exposed to the oil rally of 2008, when oil hit a record high above $147 a barrel in July before crashing to less than $40 a barrel in December.
In July, CPC lost an appeal against a London court ruling which ordered it to pay nearly $162 million plus interest for non-payment of dues to Standard Chartered Bank linked to hedging deals.
Standard Chartered (Other OTC: SCBFF.PK – news) argued that CPC had always been aware that a fall in oil prices would have made it liable to make payments to the UK-based bank.
Source: Reuters