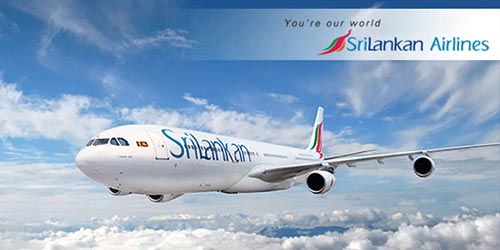 Sri Lanka's flag carrier airline SriLankan Airlines was named "the Best Airline in South Asia" by China's Top Travel magazine at the 10th Annual Top Travel Awards, the airline said on Friday.
SriLankan Airlines was recently crowned the World's Leading Airline Operating to the Indian Ocean Region at the prestigious World Travel Awards and Best Full Service Airline in Central and South Asia for the second consecutive year at the Future Travel Experience Asia Awards.
The airline was also last year named the Most Innovative Marketing Airline in China by Life Weekly magazine.
Top Travel Chief Editor Wang Jianmei said, "The Award of Best Airline in South Asia that Top Travel bestowed upon SriLankan Airlines is well earned. We are pleased to see that more and more Chinese tourists choose SriLankan Airlines to travel to Sri Lanka, the Maldives, Seychelles and many more destinations in the world."
SriLankan Airlines Country Manager in China Ravindran Veeraperumal said, "This is a great acknowledgement and encouragement for our efforts to promote travel on SriLankan. We strive to maintain our highest standard and delight our customers."
SriLankan Airlines now serves five cities in China – Shanghai, Beijing, Kunming, Guangzhou and Hong Kong – operated on state-of-the-art Airbus A330 wide-body aircraft.
China is now Sri Lanka's second largest tourism market behind India.
A total of 271,577 Chinese tourists visited Sri Lanka in 2016, up 26 percent year-on-year, according to the statistics of the Sri Lanka Tourism Development Authority.
(Xinhua)